Winston-Salem Auto Shipping Companies
Posted on 03 11, 2013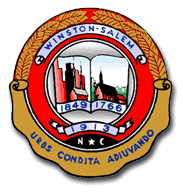 Learn about the city of Winston-Salem, North Carolina and explore Winston-Salem auto shipping companies. Whether you are relocating to Winston-Salem, NC to work, study or raise a family, AutoShipping.com can help you get free quotes from Winston-Salem auto transport companies!
City Background and History
Winston-Salem is the fifth largest city in the state of North Carolina, with a population of 230,000. Known as the Twin City, the area also has the colorful moniker of the 'Camel City' thanks to J. Reynolds Tobacco Company's Camel cigarettes, which are produced and based in the city. Locals refer to the area as Winston, though the area actually started its life as the town of Salem in 1753. The area was renamed Winston after local Revolutionary War hero Joseph Winston in 1852. The area remained a sleepy backwater for the next few decades, until big tobacco made its way to town. After the first tobacco factory was built there in 1875, the area quickly became a hub of the industry, and there were over 40 tobacco factories here just ten years later. At one point, the area was importing and exporting so much tobacco related products that it was officially designated a port of entry by the United States, despite the fact it lies 200 miles inland from the sea. It was the eighth busiest port in the country in 1916. The now standard formal name of the city started with the Post Office referring to the area as Winston-Salem, and the city was officially incorporated as such in 1913.
The tobacco industry's legacy can be seen all over Winston-Salem. Perhaps the most enduring mark is the Reynolds Building, which, when completed in 1929, was the tallest building south of the Mason-Dixon line. The building is considered the prototype for the Empire State Building, which was built a few years later in New York City. This is such a widely accepted fact that the staff at the Empire State Building send a Father's Day card to the staff at Reynolds every year to honor its role in the building's design and creation. Today, however, the area is fast becoming a leader in nano and bio-tech fields, and this sector accounts for much of the new job growth in Winston-Salem.
For some entertainment, look no further than SciWorks, a science emporium with over 250,00 square feet of exhibits, a planetarium, habitat parks for local wildlife like the river otter, science camps, and education outreach programs for local schools. If you'd like to see how those in the early days of Winston-Salem lived, check out Old Salem. You won't find any witches here, but the restored community features original buildings from the 1750s through the 1850s, and comes complete with period-accurate shops as well as workers plying their trade the old-fashioned way while interacting with guest and shoppers.
With all this, relocating to Winston-Salem is a no brainer. Contact Winston-Salem auto shipping companies today to make the move to the Camel City!
Winston-Salem Auto Transporters
A-AAA Auto Transport
A-AAA Auto Transport's employees have over thirty years of experience in the auto transport industry, and know how to ship your car safely and securely. The company also offers discounts on shipping a car to Hawaii. Expedited shipping options are also available on a case by case basis.
MC Number: 479342
Able Auto Transport
Able Auto Transport has extensive experience in the auto shipping field. With 22 years of experience, this Kahoka, Missouri-based transporter is one of the most safest in the business. All Able Auto Transport drivers also carry more than the minimum insurance necessary, helping to pay for any damage to your vehicle in the event of an accident during shipping.
MC Number: 195242
Amerifreight
Amerifreight is a popular car shipper that handles many transport services for the US military and emergency services. A variety of overseas auto transport services are available from Amerifreight, so customers can ship their vehicles nearly anywhere in the world.
MC Number: 597401
Autobahn USA Inc.
Autobahn USA Inc. is a car shipping company that specializes in transporting antique and luxury vehicles, though they are willing to transport just about any car, truck or SUV. Autobahn USA has even shipped the "Time Machine" car from the Back to the Future films.
MC Number: 351957
Auto Transport 123
Auto Transport 123 is a very new company in the auto shipping industry. However, their short period of existence has not prevented them from building up a network of 150 drivers ready to move your car today! Auto Transport 123 distinguishes itself from the competition by guaranteeing that all vehicles are shipped on a single trip from pick-up to delivery.
MC Number: 2247479
B&T Auto Transport
A Tustin, California based auto transporter that has been in business for nearly a decade. B&T Auto Transport can ship your car to many cities in the US. They also offer shipping to some islands, including Guam and Hawaii.
MC Number: 514486
Bluestar Auto Movers
Bluestar Auto Movers offers auto transport services and operates out of its Lauderdale Lakes, Florida headquarters. The shipper provides both door-to-door and terminal-to-terminal delivery methods. Bluestar Auto Movers also ships vehicles overseas to both Puerto Rico and Hawaii.
MC Number: 521007
Cosmos Auto Transport
Cosmos Auto Transport is a smaller car transporter that offers both local and long distance auto shipping services. They claim to be able to ship a car across country in less than 10 days. Cosmos is a BBB accredited company.
MC Number: 385773
Direct Express Auto Transport
Direct Express is one of the larger car shipping companies in the industry, having shipped over 21,000 vehicles in a year. Located in San Rafael, California, Direct Express Auto Transport has the ability to complete nearly 90% of shipments within a week of pick-up.
MC Number: 479342
National Car Transport
National Car Transport is a Miami-based auto transporter with a stellar Better Business Bureau rating. The company can ship most cars and trucks, but it also offers shipping for motorcycles, boats and other recreational vehicles. Expedited shipping is also available.
MC Number: 481210
Ship Your Car Now
Ship Your Car Now is a relatively new auto transporter that has quickly attained a reputation for reliability. Established in 2010, Ship Your Car Now already has a A- rating on the BBB. Customers may be pleased to know that they are not charged a deposit for shipping until a shipper is dispatched to their location for pick-up.
MC Number: 714617
More About Winston-Salem
Top Winston-Salem Attractions
Winston-Salem Transportation