Auto Shipping 101
Posted on 09 9, 2010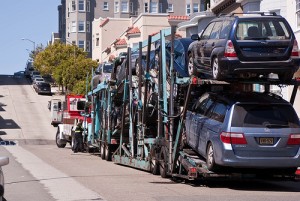 Are you contemplating on whether or not to use an auto shipping company to move your car from one location to another? You are not the only one facing that decision. Shipping a car can seem detailed and confusing to some that know nothing about the concept behind it; the basics of auto shipping and auto shipping companies will be laid out here to give you a better understanding of how the whole operation works.
The Difference Between Auto Transporters and Auto Shipping Brokers
First, you have the auto transporters. These individuals own and operate their own auto transport trucks. They can be hired directly or through a go-between company. When choosing an auto shipping company this way, all the decision making involved with moving the vehicle is up to the consumer to deal with.
Next, there are auto shipping brokers. These brokers do not own their own trucks, but handle the whole decision-making process for the consumer. Many people prefer to go through an auto shipping broker rather than choose a company themselves because it saves them time, money, and, sometimes, the frustration with dealing with the whole process. This is because brokers know how to find the best deal and, typically, work with a large amount of car transport companies that have a proven record of reliability.
The Role You Play in Choosing an Auto Shipping Company
Primarily, you need to educate yourself with the basics we are outlining here in this article. By knowing what you should look for in an auto shipping company, and what kind of options are available for shipping your vehicle, you will feel confident when selecting a company to fill your auto shipping needs. Even if you use a broker to handle your whole transaction, you still want to be informed about the whole auto shipping process.
Picking the Right Auto Shipper
Nobody can be certain that auto shipping is going to be a flawless experience. Nevertheless, if you choose a company that has a good rating with the Better Business Bureau, is licensed and bonded, carries adequate insurance, and has good customer reviews, it is safe to say that the company is not going to want to risk their reputation by going out of their way to do a bad job shipping your car.
Auto Shipping Options
There are several options to choose from when shipping your vehicle. You can opt for an enclosed carrier or an open carrier. They are both great ways to ship a car; however, an enclosed carrier offers a little more safety features for a vehicle in transport. An enclosed carrier is, generally, the more expensive option as well.
Thousands of people ship their cars each and every year. It is certainly understandable to have concerns when you are entrusting anyone with the care of your vehicle, especially when transporting it across the country. Keep in mind, though, that, if you do your research and pick the right people to move your car, you will feel much more secure knowing your vehicle is safe and in the hands of a reliable auto shipping company.