Car Transporters FAQ
Posted on 09 16, 2010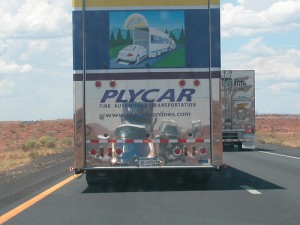 When getting quotes from various car transporters, it is important to ask the right questions prior to signing a commitment and handing over your car keys. Since many of us do not use the services of a vehicle shipping company very often, it is easy to be confused about what to look for in a reputable and reliable car transportation company.
Questions to Ask Car Transporters
Listed below are a few important questions to ask when looking for an auto transport company to handle your vehicle move.
What Areas Does the Car Transportation Company Cover?
The most important question that you should ask all potential car transporters is what areas they cover. For example, if a car transport company only serves the West Coast, but you need to get your car to New York, there is no sense using that company.
What Paperwork is Required to Ship a Car?
When car transporters take responsibility for a vehicle, they may want to check pertinent paperwork for the vehicle, such as proof of ownership, vehicle registration, and/or proof of insurance.
Is My Car Insured Against Loss or Damage During Transport?
It is mandatory for car transporters to maintain the minimum cargo and liability coverage set forth by law, but it does not mean it will cover the true value of your vehicle in an incident. Before shipping your vehicle, check with your personal car insurer first to see what coverage, if any, they offer for your vehicle during transport.
Will The Company Perform an Inspection Before and After the Transport?
Make sure to ask potential car transporters whether their drivers are required to perform pre and post inspections on vehicles they are transporting. Most companies do require a vehicle inspection prior to shipment of a vehicle before assuming any responsibility for said vehicle. This not only protects the car transporter, it protects the vehicle owner too.
Does the Company Have any Rules About Personal Possessions in a Car?
Generally, most car transporters will not transport vehicles that have personal belongings in them. The law does not allow car transporters to transport household goods, and insurance companies will not cover any goods left in a vehicle while it is in transport. Some car transporters do allow their customers to place a few items in the trunk of the car during transport, but will not assume any liability for the items whatsoever.
Does the Company Offer Enclosed Auto Transport Services?
While open carriers are a safe and worry-free way to ship a car, some vehicle owners prefer to have their cars shipped in an enclosed trailer. This method of shipping a car is generally more expensive, but is ideal for collector cars, expensive cars, or any other cars that an owner may feel safer shipping this way. The upside to enclosed vehicle shipping is that an enclosed trailer protects a car from outdoor elements such as the sun, rain, and snow. The vehicle is also less susceptible to damage from road debris.
Ask prospective car transporters if they offer enclosed auto transport and inquire about pricing differences between the two methods of transporting a car — open versus closed auto transporting. Consider the answers to all of your questions before deciding on a car shipping company.