Direct Express Auto Transport Review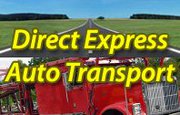 Direct Express Auto Transport is a San Rafael, CA-based auto transportation company which offers services all over the continental United States and Hawaii.
Among the Largest in the Business
The company is one of the largest auto shipping firms in the country, both in terms of revenues and in terms of the total number of cars shipped annually. Last year, Direct Express generated over $20 million in sales and shipped close to 21,000 vehicles to destinations around the country.
Fast Growth
Direct Express Auto Transport was established in 2003, and currently employs about 15 customer support staff to handle incoming orders and support issues. To keep up with its growth, the company recently took out a 10-year lease on new office space in the San Rafael area. The company currently offers a range of service options, including open and enclosed truck transportation services, door-to-door shipping and terminal-to-terminal services.
Shipping Services
The company claims to be able to deliver over 90 percent of its vehicles within seven days of shipping, though its estimates for coast to coast shipping range between seven and ten days. Like other companies in the transportation industry, Direct Express does not offer any guaranteed pick up or delivery dates. Rather, it gives customers a specific time window within which they can expect to have their vehicle either picked up or delivered to them.
Overseas Shipping to Hawaii
In addition to shipping cars within the continental U.S., Direct Express Auto Transport also ships cars to the Hawaiian islands of Maui, Oahu, Kuaui and Honolulu. All cars bound for Hawaii are first transported to Los Angeles, Oakland or Seattle. From there, the cars are loaded onto a ship and transported by sea to Hawaii. Direct Express requires customers to pay a partial deposit up front when the vehicle is picked up, and the remaining amount on delivery of the vehicle.
Direct Express Auto Transport is federally bonded, and insured and enjoys a strong 'A+' rating with the Better Business Bureau for its customer service and its service delivery.
Additional Research Tools & Information
MC Number 479342
Company Address
101 Lucas Valley Road Suite 202
San Rafael, CA 94903