Motorcycle Shipping Tips
Posted on 03 15, 2011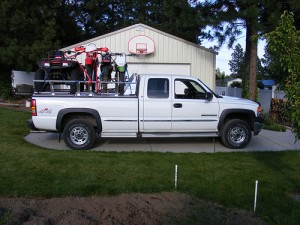 By now you may have heard all about auto shipping, but did you know that there are motorcycle shipping services available too? Shipping a motorcycle across the state or even across the country is actually quite similar to shipping a car. In fact, many choices that you have with auto transport are available for you when you choose to ship your motorcycle as well.
Motorcycle Shipping Guide
Whether you are shipping your own personal motorcycle to be with you in your new hometown, or you are shipping a motorcycle that you sold to someone online, the following motorcycle shipping tips will help make your motorcycle transport both easier and less stressful for everyone involved.
Know Your Options
It pays to know that you have many options when it comes to shipping your motorcycle. Not only do you have a variety of auto transport companies to choose from that will move your bike for you, but you also have the choice on how you want to get it there and when.
Get Quotes
Before you even begin planning your motorcycle shipment, it's best to get an idea on how much everything is going to cost you – one of the easier motorcycle shipping tips to know. Many companies that offer auto shipping also offer motorcycle shipping services, too. Start with these companies first when looking for someone to ship your motorcycle for you. Most motorcycle shipping tips suggest that you get at least 3 quotes to begin comparing prices and features.
Choose Your Hauler
Just like with auto shipping, you have the choice to ship your motorcycle in an open hauler or an enclosed trailer. There are quite a few benefits to both. In short, an enclosed trailer is recommended if your bike is a collector or specialty bike, or if it is traveling more than 500 miles away. An enclosed trailer keeps it protected from the outdoor elements and lessens the chances of your motorcycle being stolen.
An open hauler is the more economical option to choose and is a safe way to transport your motorcycle if it is only traveling a short distance. Choosing an open hauler is also a good option if you are on a short time-frame and need your motorcycle shipped fast.
Choose Your Pick-up and Delivery Locations
When it comes to shipping motorcycles, door-to-door shipping is the preferred method of pickup and delivery. If you have done any research on motorcycle shipping or car shipping, you know that door-to-door shipping doesn't necessarily mean a transport company is going to pick up and drop off your car or motorcycle exactly at your front door.
They will, however, get as close to your home as possible. If the transport driver cannot get to your neighborhood, he will arrange to meet you at a nearby parking lot.
If you are shipping a motorcycle to someone else, make sure they tell you whether or not their street is easily accessible by an auto transport truck. If not, make arrangements with them to meet the transport driver somewhere nearby, such as a shopping center or mall parking lot.
Make Sure Your Motorcycle is Insured for Transport
Verify your carrier's insurance information. If they do not have enough insurance to cover your motorcycle in the event it is damaged or stolen, inquire about getting additional coverage. Some carriers offer additional insurance coverage for a nominal fee, one of the motorcycle shipping tips people should consider wisely. Also, check with your own insurer to see if they offer any coverage for your bike while it is in transport.
Prep Your Motorcycle for Shipment
Prior to shipping your motorcycle, you want to make sure you clean it thoroughly and document any damage it may have, no matter how minor it may seem. When the auto transport driver gets there, he will be documenting this damage as well. It is especially important to do this if you are shipping your motorcycle to someone who purchased the motorcycle from you online. Assuming you told this person about any damages your bike had prior to them purchasing it, there should be no surprises when it is delivered to them.
In the rare chance that the motorcycle was damaged during delivery, it is important for your buyer to document these new damages on the vehicle inspection report and have the driver sign it before taking possession of the bike. Should you or the buyer need to make a claim, the process will go much smoother if everything is documented correctly. Always follow an auto inspection guide, one of the best money-saving motorcycle shipping tips.