Moving with a Car
Posted on 03 7, 2011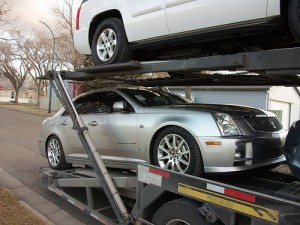 Preparing for a long distance move can be exhausting, especially since there is just so much that needs to be done. Besides packing and unpacking, you also have a long list of so many other things to accomplish before and after your move.
If you own a vehicle, or if you are like most families these days that own two or more vehicles, have you thought about how moving a car will affect your plans? Yes, unfortunately, that means you need to add another thing to your list. However, you do have options when it comes to vehicle shipping. You will find those options below.
Have Your Moving Company Move Your Car For You
Some moving companies will offer car hauling services to their customers. While this may sound like a convenient option, sometimes it is not always the best way to go. Because companies that move household goods do not specialize in moving a car or other vehicles, they may not be properly equipped to handle a vehicle move.
In some cases, these movers may not be insured to handle vehicle moves either. Using a moving company may also be a more expensive option because movers generally charge by weight and distance traveled.
Use the Services of a Professional Auto Moving Company
Unlike moving companies that transport household goods, auto movers are licensed exclusively to transport vehicles. Since the service of moving a car is what professional auto transport companies are in business for, they tend to provide more flexible pricing and options than other companies offering auto moving services do.
Drive Your Car Yourself
If you are moving within a hundred miles away, you might just want to drive your car to your new home yourself. However, if you are moving several hundred or even thousands of miles from your existing location, you might want to rethink this option.
Besides factoring in expenses such as fuel and other travel costs, you will also need to consider how much time it will take you to drive your car on your own to your new residence. Most times, the costs and the time involved in moving a car on your own turn out to be much higher than using a professional mover.
Sell Your Car
When the costs to use a moving company or professional auto transport company seem higher than what your car is worth, or driving your car to your new hometown is just not a feasible option, you may want to consider selling your vehicle prior to your move.
From a financial standpoint, it makes no sense spending more to get your car moved than what it is worth. That is unless your car has sentimental value to it that no amount of money could replace. In that case, shipping your car with a professional auto transport company would be our best option.