Car Transport – 10 Commonly Asked Questions
Posted on 10 7, 2010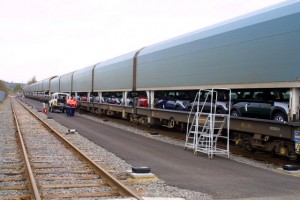 Hiring a car transport company to get your automobile to a new destination is a great idea nowadays. Before hiring professional car transporters, though, some important questions need to be asked before you consider making your final decision.
Car Transport Questions
Does the company offer a free written quote?
Prior to choosing any single car transport company, it is important to get several quotes from different companies. Prices will vary among carriers and most offer free quotes for their services.
What options are available to transport my car?
Many auto transport companies offer vehicle transport via open trailers and enclosed trailers. There are options, but you need to discuss them with your chosen carrier, as prices may vary by chosen option and company.
Will the company take pictures of my vehicle before and after shipping it?
Taking pictures of your vehicle before and after it is transported not only covers the car transport company, but it also provides you assurance as well. If the company does not offer to take pictures, you should consider doing so yourself.
Can the company provide its DOT and MC numbers?
All car transport companies are required to have a DOT and MC number. If a company does not provide you with this information upon request, find another company that will. Any company offering honest service will have no problem disclosing their DOT and MC numbers.
What type of insurance is offered while my vehicle is in transport?
Check with your personal car insurer to see if they offer any shipping insurance for the time that your car is being transported. The car transport company should also provide you with their coverage amounts as well.
Does the car transport company have any way of tracking their vehicles?
A car transport driver can run into several obstacles when transporting vehicles across the country. Sometimes, it is just not feasible for a vehicle to get to its final destination in the specified time-frame given. It does help if the car transport company uses a GPS tracking service on their vehicles so you know where your vehicle is and can plan accordingly.
Where will the driver pick up my vehicle?
There are several options when it comes to picking up vehicles for transport. These options include a car transport driver picking your vehicle up at your home, in a nearby parking lot, or at a terminal in close proximity to your home.
Where will my vehicle be delivered?
The same options that are available for picking up a vehicle are available for delivery as well. It is important to discuss these options prior to signing a commitment with any car transport company.
Does the company offer door-to-door service?
Door-to-door car shipping is a very convenient option that many consumers benefit from. Plenty of car transport companies offer this service, and it is by far a great way to ship a car.
What are the payment methods?
Payment methods vary by auto shipping company. Some companies require a deposit, while others do not. Most companies are fine with payment by credit card, and other auto transport companies will only accept cash, a cashier's check, or money order. It is very important to verify the form of payment your chosen car transport company accepts before you commit to them.