Different Methods of Shipping Vehicles
Posted on 09 13, 2010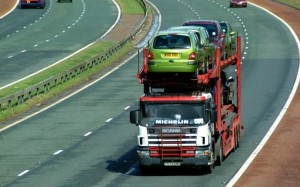 There are several decisions families need to make when moving from one place to another, and shipping vehicles is no doubt one of the biggest decisions of their move. Fortunately, there are many companies that offer various vehicle shipping services, but most individuals are clueless as to what they are.
An image of big car haulers loaded with vehicles on the highway is what comes to most people's minds when the discussion of shipping vehicles comes up. Sure, moving a car on a hauler is one way to ship a car, but there are other ways to transport a car, too.
Shipping Vehicles via Open Carriers
The most popular way of shipping vehicles is by shipping them in an open carrier. The hauler filled with cars on the highway is a perfect example of what open shipping is. This method of shipping vehicles is definitely the standard for car dealerships to ship and receive many of their vehicles.
Many folks are shipping vehicles by way of an open carrier because of two main reasons: affordability and reliability. Shipping a car in an open hauler costs only a fraction of what it would cost if that same car were shipped in an enclosed container. As far as reliability, open hauler shipping has been around for many years. Thousands of people each year move their cars by way of open auto transport.
The downside to shipping vehicles by way of an open carrier is the fact that the vehicles are subject to certain weather elements and potential damage from road debris. It is important to know that these types of incidents are quite rare when shipping a vehicle, but they can happen.
Besides, if the vehicle is exposed to these conditions while on an open carrier, they are going to be exposed to these conditions when being driven down the highway as well. Shipping vehicles by way of open carrier is a much safer way to move a car than many of the alternatives.
Shipping Vehicles via Enclosed Auto Transport
There is one way to ship a car and avoid situations like weather conditions and road debris: enclosed auto transport. Shipping vehicles in an enclosed trailer is a great way to keep a vehicle protected and get it to its new home without the worry of any damage to it whatsoever.
Enclosed auto transport is a much more expensive option to choose, but it is a perfect option if you need to ship a collectible or classic car, motorcycle, or any vehicle that you want to keep in tip-top showroom condition.
Whichever way that you decide to ship your vehicle, know that entrusting any car hauler with good credentials is going to get your car safely where it needs to go. Shipping vehicles is an important business that adds convenience to our lives, and is one of the safest ways to move a car from one place to another.