Car Shipping Checklist
Posted on 09 20, 2010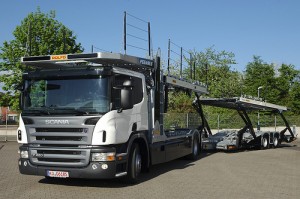 A car shipping checklist is a great way to keep track of tasks that are associated with the relocation of your vehicle. Moving to a new place is a big deal, and you want to avoid any potential delays or problems by overlooking any details associated with your move. This simple checklist will show you what to look for when preparing your car for shipping.
Start With a Clean Car
Your car will not just look better cleaned up, but it will also make it easier for you to notice if there is any damage to your car prior to transporting it. Many times, drivers do not notice the little dents and dings that are on their car when it is dirty.
If you do find any dings or dents, make note of them. Prior to transporting your vehicle, your car shipping company will do their own check-up on your car and will note these damages. Some companies may even take pictures of the damage to avoid future problems later down the road.
When cleaning the interior of your vehicle, do not forget to remove all personal items from it. Some auto shipping companies allow a vehicle owner to pack a certain amount of personal effects in the trunk at their own risk. The car shipping company will not assume responsibility for these items, nor will insurance pick up the tab if these items are damaged, lost, or stolen.
Car shipping companies highly recommend that any GPS systems, removable antennas, fog lights, spoilers, bike racks, ski racks, and any luggage racks be removed off the car before transport. It saves them from damage and causing damage to other vehicles. It also makes the car shipping driver's job just a little bit easier.
Check for Problems Before Moving Day
Most car shipping companies require that your car be inspected prior to being loaded onto the transporter. Rather than wait for the day your car should have been on its way to its new home, check for problems beforehand.
Look for obvious issues, such as leaky fluids or low tire pressure. If you find any of these problems, get them repaired prior to vehicle shipping day. If your car has any of these issues when the transporter arrives, the company could refuse to ship your car.
Keep in mind that it is possible to ship an inoperable car; this inspection is mainly to make sure there is no damage that can potentially cause issues with other cars on the hauler. If you have an inoperable car that you need shipped, there are several auto transport companies that will ship the car for you.
Review a Few Final Details
On your vehicle's scheduled pick-up date, make sure there is very little gas in the tank, and that your car alarm (if you have one) is disabled. You are now ready to hand over your keys to the car shipping driver so that he can get your car safely to its new home.