Why Use Professional Auto Shippers
Posted on 10 21, 2010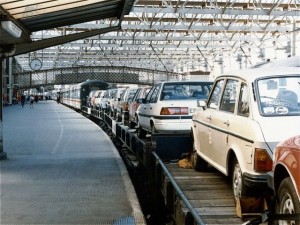 Relocating to a new area can be a stressful time in your life. Luckily for you, auto shippers are there to help make the transition to your new home a smoother one. They do so by eliminating the stress associated with moving your vehicle to your new place, thus allowing you the time to concentrate on other important things that may be going on with your move.
Besides sparing you stress of relocating your vehicle by yourself, using the services of professional auto shippers also offers many other benefits. Here is a short list of them:
Auto Shippers Save You Time
Driving your own vehicle long distance can take you days to do. Getting quotes, comparing auto shippers, and picking out an auto shipping company can take just minutes to do. Allowing your car to be transported by way of a car hauler, whether it is enclosed or open, affords you the opportunity to use your time on more valuable things related to your relocation.
Professional Auto Shippers Save You Money
Fuel, meals, hotels, and tolls – these are just some of the many costs involved in transporting your vehicle on your own. Fees auto shippers charge are very competitive compared to the fees that you will incur from transporting a vehicle on your own.
Using an Auto Shipper Makes Moving Less Stressful
Canceling utilities and getting items packed safely and loaded into a moving truck are only some of the things you need to worry about when planning a move. If you have multiple vehicles to move, that is just added stress on your shoulders. Auto shippers can take the worry of getting your vehicle(s) moved to your new home quickly and efficiently.
Auto Shipping Eliminates Wear and Tear on Your Vehicle
Long distance driving puts a lot of strain on a vehicle. Tires can wear down easily and road debris can be a problem for a car's paint job. Driving a car across the country can add thousands of miles to a vehicle, making the value of it drop significantly. The only time a car needs to be driven when it is being shipped is when the driver needs to load and unload it on and off the trailer. Auto shippers eliminate unnecessary wear and tear on your vehicle, preserving its safety and value in the process.