Glossary of Vehicle Shipping Terms
Posted on 10 25, 2010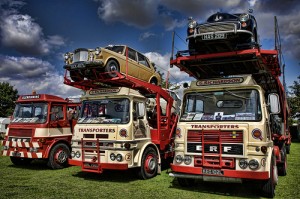 If you have never shipped a car before, you may not be familiar with even some of the most common vehicle shipping terms that are used in the auto transport industry today. Here is a short list of some of the most common terms and phrases that you will need to familiarize yourself with to assist you when communicating with a vehicle shipping company.
Auto Transport Broker: An auto transport broker acts as an intermediary between the auto carriers and the consumer. Auto transporter brokers play a vital role in the vehicle shipping industry. A broker works on behalf of the consumer to get them a good deal on shipping a car with a reliable vehicle shipping company, all while providing quality customer service.
Bill of Lading: You are guaranteed to hear this term when dealing with any vehicle shipping company. That is because the Bill of Lading is a very important legal document that a carrier issues which acts as a contract and receipt, but, most importantly, it is a document that will ensure the security of your vehicle.
Car Terminal: If you choose to ship your car terminal-to-terminal, a driver will pick your car up at a terminal and drop it off at a terminal as well. A car terminal is a large lot or station where vehicle shipping drivers drop off and pick up cars they are transporting.
Door-to-Door Auto Transport: Most vehicle shipping companies offer door-to-door vehicle transport services. The name says it all. The driver will pick up and drop off your vehicle at your home or another location of your choice, but not at a terminal.
Enclosed Vehicle Shipping: Enclosed vehicle shipping is shipping a vehicle inside of an enclosed trailer. Most owners of collectible or expensive cars use this type of vehicle shipping service, but anyone who wants to fully protect their cars during transport can opt for this service. Some companies do charge extra for the service.
FMCSA: If you have been researching vehicle shipping, there is no doubt you have seen FMCSA mentioned in quite a few places. FMCSA is short for Federal Motor Carrier Safety Administration, and is an organization within the Department of Transportation. The FMCSA grants operating authorities to vehicle transport companies. It is wise only to do business with companies that are licensed by the FMCSA when shipping your vehicle.
MC Number: Brokers and carriers need a motor carrier number (MC#) to have the authority to transport vehicles across state lines.
Open Vehicle Shipping: This is the alternative method to shipping a car in an enclosed trailer. Open vehicle shipping is shipping a vehicle in an open hauler, and it is currently the most popular method of moving a car from one location to another.
Terminal-to-Terminal Auto Transport: In simple terms, terminals are facilities that store cars that are in the process of being transported. Terminal-to-terminal shipping is the alternative to door-to-door vehicle shipping.
USDOT Number: A USDOT (U.S. Department of Transportation) number is a carrier identification number granted to carriers by the FMCSA. Always choose to do business with vehicle shipping companies that have a valid USDOT number.