Car Transportation Insurance
Posted on 11 1, 2010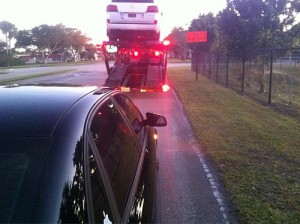 If moving long distance, it might be less expensive and a lot easier to use the services of a car transportation company instead of driving the car yourself. By employing the services of an auto shipping company, it will take the burden off your mind and allow you to concentrate on other things, not to mention saving your vehicle a lot of wear and tear in the process. However, you do want to make sure that the company you choose includes car transportation insurance as part of their services.
Investigate Car Transportation Companies
Before selecting a car transportation company, do your homework. Obtain several quotes from competent and dependable auto transport companies. By doing so, you will not only get the best rates and services, but you will also be choosing a company that you can feel comfortable with.
All of the car transportation companies that AutoShipping.com works with are bonded, fully licensed, and carry the proper insurance. Nevertheless, not all insurance coverages are alike; therefore, be sure to ask any potential car transportation companies for proof of their insurance coverage. At the very least, it is mandatory for car transportation companies to possess cargo and liability coverage on their insurance policies. If your vehicle sustains damage during transport, you want a company that carries the right insurance to handle the situation.
It is always best to contact your own personal car insurance company to verify your vehicle's coverage during the car shipping process as well. Your car insurer might also be able to offer additional coverage during the transportation of your vehicle for a nominal fee.
Preparing for Car Transportation
Prior to transport, make sure to remove all personal effects from your car. Your insurance company will not cover the loss of these items, and neither will the car transportation insurance policy. Keep in mind that personal items left in a car are not just a liability – they also add more weight to a car, thus resulting in higher shipping fees and potential damage to the car during shipment.
Before your car is loaded onto one of the car hauler trailers, the car transportation driver will perform a complete and thorough inspection of your car with you present. Any dents, scratches, or other damage on your car is properly documented on your bill of shipment. The driver will also note your vehicle's mileage. If you agree with everything that is noted on the bill of shipment, the driver will then have you sign it and ask for the keys to your car.
Picking Up Your Car
Once your vehicle is unloaded at its new destination, you will need to perform another thorough inspection of your vehicle with the driver. If everything is how it was when your vehicle left its first destination, you will need to sign off on the bill of shipment and take possession of your car. If there is damage to the vehicle, you need to make the driver aware of it right away so that the car transportation company can put in an insurance claim.
Accidents are rare when transporting vehicles, but they can happen. It is important to make sure that not only you have the proper insurance coverage to protect your vehicle, but that the car transportation company that you choose has the proper coverage as well.