Auto Shipping Insurance
Posted on 03 30, 2010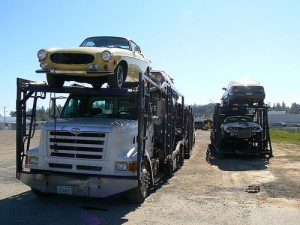 While most cars arrive at their destination in perfect condition, it is always a good idea to cover all of your bases by purchasing services that include auto shipping insurance, just in case. Verify your vehicle's coverage while in the possession of your auto transporter. The industry standard insurance provided by most auto shippers will cover your vehicle against damage and theft by your transport company. Typically, the total coverage is based on the lowest Kelly Blue Book value. Additionally, there may be exclusions to your coverage, such as glass and undercarriage, so be sure that you obtain appropriate coverage for the value of your car.
Reviewing Auto Shipping Insurance with the Transport Company
Make sure you ask for a copy of the transporter's shipping insurance with your contract. Ask if there is a damage deductible, or if there's coverage in the event that you'd have to rent a car while your damages are being repaired.
You should also review your own insurance policy and verify the amount of coverage that it provides while your automobile is being transported. Be sure to find out and obtain documentation as to whether your personal insurance will act as primary or secondary insurance coverage in the event that something does happen.
Remember, too, that neither your personal insurance, nor the coverage of the auto transporters will cover items that you have left in your vehicle. Clean out your car as thoroughly as possible. Don't put yourself at risk for theft or damages to the interior or undercarriage of your car by trying to transport extra items in your vehicle.
Auto shipping insurance is fairly standard for the industry. Still, make sure that terms of the auto transport company you choose are favorable to you before signing any contracts.