Car Shipping Rates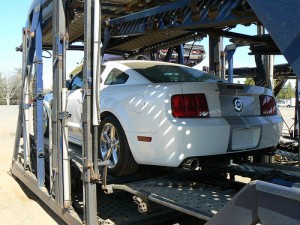 When you're looking to get the best car shipping rates, you have to be prepared to put in a bit of leg work along the way, as well as learn a bit about how the world of auto transport works. Many people mistakenly think that moving a car is the same as moving furniture, when, in reality, the process is a little bit different. There are a few more considerations to keep in mind when looking for the best car shipping rates, and determining which auto transport provider will best suit your needs.
However, there are a few basic similarities between transporting your vehicle and moving virtually anything else, the most important being that comparison shopping is the lifeblood of finding a good deal. The best car shipping rates aren't likely to drop in your lap out of sheer luck, and very rarely will the first quote you're given turn out to be the best one for you. Before deciding upon an auto transport service, take the time to get quotes from anywhere between three and seven different providers. Not only is this the easiest way to find the best vehicle shipping rates, it also gives you a pretty fair overview of the average prices for the services you need.
One Estimate Is Not Like Another
After you've taken the time to talk to a few different service providers, it's easier to see where you're most likely to get the best car shipping rates, at least on paper. The problem with estimates for auto transport services is that each quote does not include the same services, and does not take the same factors into consideration. While one provider may give you an extremely low base rate, the estimate may not include the many "extras" that are often tacked on. Another provider may give you a much higher estimate, but one that's far more comprehensive, and more likely to be indicative of what you'll actually expect to pay when all is said and done. Being aware of these factors is a key part of getting the best car shipping rates possible.
Negotiate For The Best Car Shipping Rates:
Don't be afraid to ask for discounts. An estimate is just that; it's not binding until you've decided to accept the offer, and even then some companies offer both binding and non-binding estimates. If you like a company, but they aren't offering the best car shipping rates, discuss the situation with them, and see if you can come to terms. Many companies provide discounts for new customers, those referred by current clients, and for those interested in moving multiple vehicles.
Don't make choices based on price alone. The best car shipping rates mean very little if a company's standard of service isn't up to par, if the company isn't properly licensed, or if there's no insurance being offered. In fact, choosing a little-known provider simply because the company provides the best car shipping rates is usually a mistake.
Take the time to visit the auto transport company in person, and make sure that, in addition to providing the best car shipping rates, the business keeps its trucks and its licenses up to date. The Internet is great as a starting point, but nothing is more revealing or informative than an in-person visit.
Searching for the best car shipping rates won't be exceedingly simple, but, when you put a little time and detective work into uncovering which company offers the best fit for your needs, you're likely to walk away with a bargain!
Read More About Car Shipping Rates
[catlist id=80 numberposts=50]