Planning Auto Transportation
Posted on 08 16, 2010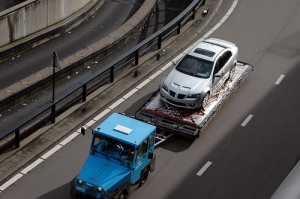 One of the top questions auto transportation companies are asked is how far in advance should a person schedule their vehicle move. Every auto transport company has their own answer, but most would agree that the more time they are given to plan your car transport, the better. Two weeks seems to be the preferred notice though, but most companies will tell you that they will accommodate shorter notices as well.
Seasonal Booking Matters
If you are planning to move your car within the summer months, it is highly recommended that you try to book your vehicle move as far in advance as possible. This reasoning is because the summer months are the busiest months for both moving companies and auto transportation companies.
Scheduling Advice for Auto Transportation
When you do decide to book your car shipping date with your auto transportation company, make sure to pick a date you can be flexible with. Car movers do try to accommodate busy schedules, but they cannot give a definite date or time when your vehicle will be picked up delivered. However, they are able to give a good estimate of when you can expect the pickup and delivery of your car. Most auto transportation companies will even call at least a day in advance to give you advance notice of when to expect them.
A great thing about auto transportation companies these days is that many of them operate using the latest in technology. Not only are these trucks newer and safer, they also utilize vehicle-tracking systems so that their customers know where their vehicles are at all times.
Shipping Options
Another option to go over with your chosen vehicle transport company is their shipping options. Do you have the choice to ship your vehicle in an enclosed container, or does the auto transportation company only offer open-air shipping?
When it comes to picking up your vehicle and dropping it off, many companies give you different options. There is the standard door-to-door option, or a transport driver can pick up your car at a terminal and drop it off at a terminal in close proximity to you.
If you moved to a metropolitan area, chances are you will live within close driving distance of a vehicle-shipping terminal. Costs differ among door-to-door and terminal-to-terminal auto transport services, so it is imperative you discuss your options with your chosen car transportation company.
Most importantly, make sure to go over all terms and conditions, such as cancellation fees, with the auto transport company before you make any final commitment with them. In doing so, you will find peace of mind knowing you took the time and picked the right transportation company to handle your auto transportation needs.