Comparing Car Movers
Posted on 09 2, 2010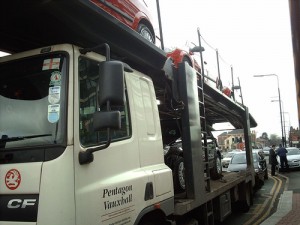 Cost is no doubt a main concern for many consumers today that have a need to transport their vehicle across the state or even across the country. Comparing car movers online is one of the best ways to get the lowest price possible for shipping your vehicle without the need of sacrificing services and quality. It is important, however, to make sure not to jump on the first car shipping deal given based on price alone.
Car Moving Factors to Consider Besides Price
Other factors need to be considered when shipping a car, such as whether the car mover is licensed, bonded, insured, and if they offer the services that would be beneficial to your needs. Keeping these factors in mind will not only help make it easier to compare car movers, but it will also help you obtain a great deal on your car shipping services.
Car insurance is perhaps the most important consideration to keep in mind when comparing car movers. If your vehicle suffers any kind of damage while in transport, it is important to make sure that insurance covers those damages. Any car movers operating legitimately have no problems furnishing their customers a copy of their Certificate of Insurance as proof of their insurance coverage.
It is always a good idea to check with your own car insurance company to see what coverage they offer, if any, while your vehicle is in the hands of the car movers. Remember, even though instances such as damage, theft, and fire are quite rare during vehicle shipping, these unfortunate events can happen. Just be sure you are covered in the event they do.
Comparing Quotes from Car Movers
When obtaining shipping quotes from various car movers, it is important to compare services offered by the carriers. For instance, does the company offer door-to-door shipping, or do they strictly stick to terminal pick-up and delivery? Does the car moving company offer enclosed shipping as well as open shipping? Most importantly, can the company offer you all guarantees and stipulations in writing?
There are so many considerations to keep in mind when it comes time to ship your vehicle by way of a professional auto shipping company. However, the benefits of using the professionals to move your car versus driving it long distance are well worth the few minutes it takes to go online, obtain quotes and perform basic research on car shipping companies and their services. Car movers take the guesswork out of moving cars, and they make it easier to get a vehicle from one place to another efficiently and safely.