Car Hauling Guide
Posted on 09 6, 2010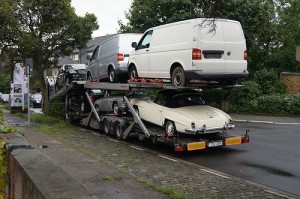 There are many reasons why people use the services of car hauling companies. Some use a car hauler to move their personal vehicles to their new home across the country, while others use the service to ship a car they bought or sold online. Whatever the case may be, this car hauling guide will help you make the most of your vehicle shipping experience.
Choose Wisely
There are many companies out today offering car hauling services. The majority of these companies are operating legitimately and hold the proper licensing and insurance requirements set forth by the law. However, there are a few companies that have slipped through the cracks that are not only not licensed to offer car hauling services, but they are also not insured. If something happens to your vehicle while in their care, you could have big problems on your hands.
Stick with a car hauling company that has a known reputation for great customer service and has a long history of transporting cars. If you are unfamiliar with car hauling companies and do not know where to look for a great company, start here. We work with only top auto shippers, so you can rest assured your vehicle transport is handled by a company that meets or exceeds the legal requirements.
Shop Prices and Services Around
With thousands of car hauling companies competing for your business right now, it is possible obtain great services from a leading auto shipper at affordably low prices. Take a few minutes to review each quote, by doing so you can save yourself hundreds of dollars in the process.
Never Skimp on the Insurance
You may have picked one of the best car hauling companies around to handle your vehicle move, but, if they do not have enough insurance to cover your car in the event of an accident or damage, you may be left unprotected. A vehicle can be expensive to repair or replace; therefore, you need to make sure that your chosen car hauling company has the shipping insurance to cover the costs if they need to.
Document Everything
Make sure you document everything during the car hauling process. Take pictures of your car in its condition prior to shipment and note any damages, if any, to keep for your records. When you pick up your vehicle, do the exact same thing. If there are any new damages to your car, make sure you bring them to the driver's attention before signing for your car. If your vehicle is released to you and the driver was not made aware of any damages to your vehicle, you are releasing the car hauling company from any liability for those damages.
By following the tips outlined here in this simple car hauling guide, you will be more secure in choosing an auto shipping company.