Norfolk Auto Shipping Companies
Posted on 06 3, 2013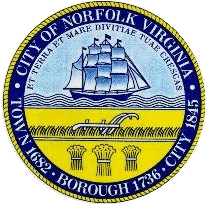 Learn about the city of Norfolk, Virginia and explore Norfolk auto shipping companies. Whether you are relocating to Norfolk, VA to work, study or raise a family, AutoShipping.com can help you get free quotes from Norfolk auto transport companies!
City Background and History
Norfolk is the second largest city in Virginia, with a population of nearly 250,000. Square in the center of the large Hampton Roads metropolitan area, named for the harbor at the entrance of the Chesapeake Bay upon which Norfolk sits, the city is one of the oldest in the area, and has historically been considered the center of the entire region. Settlement in the region dates to as far back as the 1620s, making it one of the oldest European settlements in the country. Formally organized in 1705, the city has been one of the most prosperous and important cities in Virginia's history, though, during the American Civil War, the entire city, save the St. Paul's Episcopal Church, was burned or shelled to the ground. Today, Norfolk stands at the middle of a vast transportation network along the busy eastern seaboard, and is home to one of NATOs two command centers, as well as the largest Naval Base in the world.
Norfolk's location at the Chesapeake Bay is one of the primary drivers of its economy. The protected deep water ports allow large amounts of imports and exports to flow to and from the region freely, safely, and cheaply, making the city and its surrounding neighbors a center of international trade. The Norfolk International Terminals even have the world's largest, and fastest, container cranes. The Naval Station Norfolk is here for the same reason. The largest naval base in the world is home to many of the US Navy's latest and greatest ships, and checking out the size of these mammoths is a tourist attraction in and of itself. The area is so important that even the United States Joint Forces Command is headquartered here, and the entire Atlantic Fleet calls Norfolk home. Major defense contractors are also here in Norfolk, and bring with them many high paying jobs; over 35% of the gross regional product in the area is related to defense spending, as well as most of the region's current growth.
More than just a robust economic powerhouse, however, Norfolk is also home to some great cultural and natural attractions. The Chrysler Museum of Art is undoubtedly the region's best museum, and even rivals some of the great museums in Washington DC. Of course, there is a maritime museum, the Nauticus, which features interactive exhibits and is also home to the USS Wisconsin, the last battleship ever made by the United States. The public is welcome on the ship, which served from World War II all the way until the First Gulf War.
Whether you are starting a new job with a defense company, being assigned here by the US military, or are just a civilian who wants to enjoy a beautiful and lively city, Norfolk is the city for you. Contact Norfolk auto shipping companies today for their assistance in relocating you to this great city.
Norfolk Auto Transporters
A-AAA Auto Transport
A-AAA Auto Transport's employees have over thirty years of experience in the auto transport industry, and know how to ship your car safely and securely. The company also offers discounts on shipping a car to Hawaii. Expedited shipping options are also available on a case by case basis.
MC Number: 479342
Able Auto Transport
Able Auto Transport has extensive experience in the auto shipping field. With 22 years of experience, this Kahoka, Missouri-based transporter is one of the most safest in the business. All Able Auto Transport drivers also carry more than the minimum insurance necessary, helping to pay for any damage to your vehicle in the event of an accident during shipping.
MC Number: 195242
Amerifreight
Amerifreight is a popular car shipper that handles many transport services for the US military and emergency services. A variety of overseas auto transport services are available from Amerifreight, so customers can ship their vehicles nearly anywhere in the world.
MC Number: 597401
Auto Transport 123
Auto Transport 123 is a very new company in the auto shipping industry. However, their short period of existence has not prevented them from building up a network of 150 drivers ready to move your car today! Auto Transport 123 distinguishes itself from the competition by guaranteeing that all vehicles are shipped on a single trip from pick-up to delivery.
MC Number: 2247479
B&T Auto Transport
A Tustin, California based auto transporter that has been in business for nearly a decade. B&T Auto Transport can ship your car to many cities in the US. They also offer shipping to some islands, including Guam and Hawaii.
MC Number: 514486
Bluestar Auto Movers
Bluestar Auto Movers offers auto transport services and operates out of its Lauderdale Lakes, Florida headquarters. The shipper provides both door-to-door and terminal-to-terminal delivery methods. Bluestar Auto Movers also ships vehicles overseas to both Puerto Rico and Hawaii.
MC Number: 521007
Cosmos Auto Transport
Cosmos Auto Transport is a smaller car transporter that offers both local and long distance auto shipping services. They claim to be able to ship a car across country in less than 10 days. Cosmos is a BBB accredited company.
MC Number: 385773
Direct Express Auto Transport
Direct Express is one of the larger car shipping companies in the industry, having shipped over 21,000 vehicles in a year. Located in San Rafael, California, Direct Express Auto Transport has the ability to complete nearly 90% of shipments within a week of pick-up.
MC Number: 479342
National Car Transport
National Car Transport is a Miami-based auto transporter with a stellar Better Business Bureau rating. The company can ship most cars and trucks, but it also offers shipping for motorcycles, boats and other recreational vehicles. Expedited shipping is also available.
MC Number: 481210
Ship Your Car Now
Ship Your Car Now is a relatively new auto transporter that has quickly attained a reputation for reliability. Established in 2010, Ship Your Car Now already has a A- rating on the BBB. Customers may be pleased to know that they are not charged a deposit for shipping until a shipper is dispatched to their location for pick-up.
MC Number: 714617
More About Norfolk