Chesapeake Auto Shipping Companies
Posted on 06 3, 2013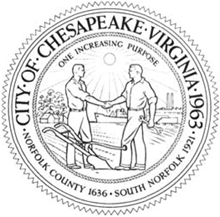 Learn about the city of Chesapeake, Virginia and explore Chesapeake auto shipping companies. Whether you are relocating to Chesapeake, VA to work, study or raise a family, AutoShipping.com can help you get free quotes from Chesapeake auto transport companies!
City Background and History
Chesapeake is the third largest city in Virginia, with a population of nearly 230,000. The city was formed very recently, in 1963, as a result of the merger of the city of South Norfolk and Norfolk County. The area's original European settlement dated to 1691, when it was founded as the areas of Norfolk and Portsmouth. The county of Norfolk would steadily lose ground over the next 100 years from annexation by nearby areas, and the merger was considered a necessity at the time. Initially a bedroom community serving Norfolk and Virginia Beach, Chesapeake has recently seen explosive growth of its cultural, commercial, and industrial sectors in the past fifteen years.
Chesapeake's location makes it an ideal place for anyone who enjoys the water to play. If you're interested in checking out the harbor, or watching the sun set while asea but don't have your own boat, hop on the American Rover Sailing Cruise Lines. The company has Tall Ships for sailing cruises, with the fiery red 19th century sailing system complemented by state of the art facilities below deck. You may even be allowed to steer the ship! Check out the water yourself in the miles and miles of both fresh and salt waterways that wind through the city. Get over to the ominously named Dismal Swamp Canal and look for inspiration there; Edgar Allen Poe found it when he wrote parts of his poem 'The Raven' while on the canal. Head into the Great Dismal Swamp National Wildlife Refuge to check out many rare marine, terrestrial, and avian species.
There are plenty of manmade attractions to supplement these great outdoor wonders as well. No time in Chesapeake would be complete without a trip over the Chesapeake Bay Bridge Tunnel. This architectural marvel is the longest bridge and tunnel complex in the world, at over 17 miles. Not only a huge travel convenience, the bridge itself offers breathtaking views of the Chesapeake Bay in all its glory; drive at sunset or sunrise for an extra special treat. When you get back, check out the Chesapeake Planetarium, which is always free, and the nearby Arboretum to get a look at some more of the beauty of the location. Then, take a short drive over to Norfolk and check out the USS Wisconsin, a floating museum and one of the last battleships the US constructed during WWII.
Whether working in nearby Norfolk or Virginia Beach, or just looking for a great place to raise a family, Chesapeake is the city for you. Contact Chesapeake auto shipping companies today for their expert assistance in helping relocate you to this jewel of a city on the Chesapeake Bay.
Chesapeake Auto Transporters
Able Auto Transport
Able Auto Transport has extensive experience in the auto shipping field. With 22 years of experience, this Kahoka, Missouri-based transporter is one of the most safest in the business. All Able Auto Transport drivers also carry more than the minimum insurance necessary, helping to pay for any damage to your vehicle in the event of an accident during shipping.
MC Number: 195242
Amerifreight
Amerifreight is a popular car shipper that handles many transport services for the US military and emergency services. A variety of overseas auto transport services are available from Amerifreight, so customers can ship their vehicles nearly anywhere in the world.
MC Number: 597401
Auto Transport 123
Auto Transport 123 is a very new company in the auto shipping industry. However, their short period of existence has not prevented them from building up a network of 150 drivers ready to move your car today! Auto Transport 123 distinguishes itself from the competition by guaranteeing that all vehicles are shipped on a single trip from pick-up to delivery.
MC Number: 2247479
B&T Auto Transport
A Tustin, California based auto transporter that has been in business for nearly a decade. B&T Auto Transport can ship your car to many cities in the US. They also offer shipping to some islands, including Guam and Hawaii.
MC Number: 514486
Bluestar Auto Movers
Bluestar Auto Movers offers auto transport services and operates out of its Lauderdale Lakes, Florida headquarters. The shipper provides both door-to-door and terminal-to-terminal delivery methods. Bluestar Auto Movers also ships vehicles overseas to both Puerto Rico and Hawaii.
MC Number: 521007
Cosmos Auto Transport
Cosmos Auto Transport is a smaller car transporter that offers both local and long distance auto shipping services. They claim to be able to ship a car across country in less than 10 days. Cosmos is a BBB accredited company.
MC Number: 385773
Direct Express Auto Transport
Direct Express is one of the larger car shipping companies in the industry, having shipped over 21,000 vehicles in a year. Located in San Rafael, California, Direct Express Auto Transport has the ability to complete nearly 90% of shipments within a week of pick-up.
MC Number: 479342
National Car Transport
National Car Transport is a Miami-based auto transporter with a stellar Better Business Bureau rating. The company can ship most cars and trucks, but it also offers shipping for motorcycles, boats and other recreational vehicles. Expedited shipping is also available.
MC Number: 481210
Ship Your Car Now
Ship Your Car Now is a relatively new auto transporter that has quickly attained a reputation for reliability. Established in 2010, Ship Your Car Now already has a A- rating on the BBB. Customers may be pleased to know that they are not charged a deposit for shipping until a shipper is dispatched to their location for pick-up.
MC Number: 714617
More About Chesapeake
Top Chesapeake Attractions
Chesapeake Transportation