Iowa Auto Transport Quotes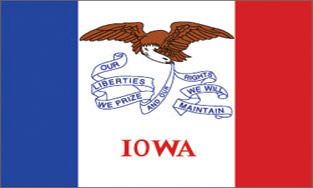 If you are searching for an Iowa auto shipping company, it probably means that you are looking to have your car transported either to or from the state. Regardless of where you are relocating to, car shipping companies in Iowa are equipped to handle your requirements. Many reputable Iowa auto shipping companies are licensed for interstate transport and can transport cars to any destination within the state and country. Most of them offer free online quotes which you can use to shop around for the best deal.
Auto Transport Companies in Iowa Cities
Read more about Iowa auto transport companies in the following cities.
Moving to Iowa
Iowa is a quintessential American Midwestern state known for its open, rural spaces, its low crime rates and excellent educational system. The state, which is bordered to the east by the Missouri river and to the west by the Mississippi river, is sparsely populated compared to other states of similar size. More than 90 percent of Iowa's towns and cities have populations of less than 5,000.
Iowa Auto Shipping Companies
If you are relocating to Iowa from another part of the country, you might be tempted to drive your car to its new destination. Many people balk at the thought of using an auto shipping company because of cost and safety concerns. The reality is that professional auto haulers these days, whether they are based in Iowa or elsewhere, can transport your car in a safer and more cost-effective manner than you imagine.
Most of the larger Iowa auto shipping companies, for instance, are fully licensed, bonded and insured to transport cars around the country. They are usually equipped with state-of-the art auto haulers and sophisticated fleet scheduling systems to optimize the manner in which they pick up, transport and deliver cars to different destinations in the country. Iowa auto shipping companies typically haul cars in open carriers, though you can ask to have yours shipped in an enclosed carrier if you are concerned about damage during transit. Depending on where you live, your auto shipping service will either offer door-to-door delivery or terminal-to-terminal shipping.
Tips for Negotiating the Best Deal from your Auto Hauler
When choosing an Iowa auto shipping firm make sure to ask the following questions:
Find out how many days in advance you need to book transportation for your car. Car transport companies often charge premium prices for priority service.
Find out if the company has the required insurance protection for interstate transportation of cars. Though rare, vehicles can sometimes get damaged during transit. If your carrier is not insured, you could end up getting stuck with the repair bills.
If your shipper only offers terminal-to-terminal service, find out how far the terminal is from your location. While terminal shipping is usually cheaper than door-to-door service, the cost savings can be quickly negated if you have to drive a long distance to drop off and pick up your car.
Find out if the company has any discounts for veterans, students, active military personnel, senior citizens, or AAA members. Sometimes such discounts can substantially reduce the cost of transporting your car.
People relocate to and from Iowa all the time. Whatever your reason for relocating might be, an Iowa auto shipping company can ease the transition by helping you move your car quickly and safely to its destination.
Iowa Transportation Resources