Warwick Auto Shipping Companies
Posted on 04 23, 2013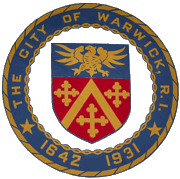 Learn about the city of Warwick, Rhode Island and explore Warwick auto shipping companies. Whether you are relocating to Warwick, RI to work, study or raise a family, AutoShipping.com can help you get free quotes from Warwick auto transport companies!
City Background and History
Warwick is the second largest city in Rhode Island, with a population of about 80,000. Founded in 1642, Warwick can lay claim to being part of a significant number of historical events in America's past. The city was nearly wiped out during King Phillips's war in 1675 by Chief Metacom and his Indian allies. The Europeans eventually prevailed, and Warwick rebuilt and grew. The city was the site of the first shed blood in American resistance to the crown, when, in 1772, patriots stormed the HMS Gaspee, stripped her of cannons, shot her captain, and burned the ship. The city was also the home of Nathanael Greene, George Washington's second-in-command and an extremely talented Revolutionary War general, who rose from the rank of private to become a hero of the Revolution. Warwick is also home to one of Greene's descendents, George Greene, the Union's oldest general at 62. Green was a hero at the Battle of Gettysburg, and was the oldest lieutenant in world history, at age 93. Though Warwick is proud of its lofty place in American history, this modern city isn't resting on its laurels, as the city is working today towards an even brighter future.
Located on the Atlantic Ocean, Warwick could easily be that picturesque New England seaside town that graces art and decor the world over. With rocky crags, sandy beaches, marinas, and quintessential New England lighthouses, the city is a boon for those that love the sea. The Conimicut Lighthouse, which warns passing ships of rocky outcroppings and has to be rowed to everyday by staff, was the last lighthouse in the country to replace its light with electricity, only being wired for juice in 1961. In Warwick, accessing the ocean is a breeze, with over a dozen marinas catering for ships of any size and style. State and local beaches give residents of Warwick access to both fresh and saltwater fishing, swimming, and boating, and the dozens of parks that dot this idyllic location give you the perfect opportunity for a picnic on a sunny summer afternoon. 
If you are looking for something a bit more wacky to entertain you for the day, head over to Ty Law's Launch Indoor Trampoline Park. Exactly what it sounds like, this indoor trampoline wonderland is fun for kids and adults of all ages. This unique park offers trampoline dodgeball, foam pits, individual and open trampoline areas, arcades, and a section for adults to hang out, watch sports on TV, and, potentially, meet a former football player himself. A sure hit with your kids, the Launch Indoor Trampoline Park is a great place to spend an afternoon outside of beach season in Warwick.
With picturesque views, a rich history, and great location, Warwick is the place to live out that ideal New England seaside experience. Contact Warwick auto shipping companies today for their expert help in moving you to this great city. 
Warwick Auto Transporters
A-AAA Auto Transport
A-AAA Auto Transport's employees have over thirty years of experience in the auto transport industry, and know how to ship your car safely and securely. The company also offers discounts on shipping a car to Hawaii. Expedited shipping options are also available on a case by case basis.
MC Number: 479342
Able Auto Transport
Able Auto Transport has extensive experience in the auto shipping field. With 22 years of experience, this Kahoka, Missouri-based transporter is one of the most safest in the business. All Able Auto Transport drivers also carry more than the minimum insurance necessary, helping to pay for any damage to your vehicle in the event of an accident during shipping.
MC Number: 195242
Amerifreight
Amerifreight is a popular car shipper that handles many transport services for the US military and emergency services. A variety of overseas auto transport services are available from Amerifreight, so customers can ship their vehicles nearly anywhere in the world.
MC Number: 597401
Auto Transport 123
Auto Transport 123 is a very new company in the auto shipping industry. However, their short period of existence has not prevented them from building up a network of 150 drivers ready to move your car today! Auto Transport 123 distinguishes itself from the competition by guaranteeing that all vehicles are shipped on a single trip from pick-up to delivery.
MC Number: 2247479
More About Warwick