Portland Auto Shipping Companies
Posted on 11 13, 2012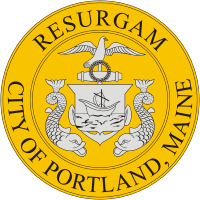 Learn about the city of Portland, Maine and explore Portland auto shipping companies. Whether you are relocating to Portland, ME to work, study or raise a family, AutoShipping.com can help you get free quotes from Portland auto transport companies!
City Background and History
Portland, with a population of just over 60,000, is far and away the largest city in Maine. With a metropolitan area that encompasses nearly half the population of the state, Portland is the center of all things Maine. Though the first attempt at settlement here in 1623 failed, the land was permanently settled by Europeans in 1630. Having been destroyed by wars three times, and burnt to the ground four more, Portland adopted the motto "I will Rise Again," in reference to the rebuilding of Portland after the great fire of 1866, which left 10,000 people homeless and most of the city in ruin. Before icebreaking ships became effective, Portland was the major port for eastern Canadian imports and exports, and, as such, Portland was a booming city for much of the late 19th and early 20th century. After suffering decline in the 1970s due to Canadian ports not being open in Winter, Portland has reestablished itself as a rich-cultured and technologically-advanced city.
Portland has found itself on numerous 'best of' lists in recent years, and it's not hard to see why. A city that combines small town charm with city amenities and a culture scene that rivals cities five times its size, Portland is the go-to cultural destination for anyone looking to live in Northern new England. Portland was named the 'Most Livable City' by Forbes in 2009. It's not hard to see why, with low crime rates, low unemployment, a large arts and especially vibrant music scene. It's also compact, which makes travel throughout the city a breeze. A 'foodie' destination as well, walking down Congress St. you might think you were in a trendy neighborhood in Brooklyn.
The Arts District and Old Port anchor the downtown festivities and cultural scene. The seafood here is world class, and many niche restaurants exist, like one of the few places in the country that harvest and sells fresh sea cucumbers. Portland is also home to a very high number of microbreweries, leading to a unique dining experience no matter where you chose to dine. The Portland Farmer's market is going on 250 years of constant existence. A large local music scene, one praised by visiting musicians of all genres, though rock is especially appreciated there, is one of the prides of Portland culture. Also boasting the hottest bar scene in Maine, Portland Old Port is the destination for some nightlife, no matter the weather outside.
If you like the amenities and culture of a big city, but don't want the grit, grime, crime, and hassle of the big cities, then Portland is the place for you. Contact Portland auto shipping companies today to make the move to this picturesque city on the Maine Atlantic Coast.
Portland Auto Transporters
A-AAA Auto Transport
A-AAA Auto Transport's employees have over thirty years of experience in the auto transport industry, and know how to ship your car safely and securely. The company also offers discounts on shipping a car to Hawaii. Expedited shipping options are also available on a case by case basis.
MC Number: 479342
Auto Transport 123
Auto Transport 123 is a very new company in the auto shipping industry. However, their short period of existence has not prevented them from building up a network of 150 drivers ready to move your car today! Auto Transport 123 distinguishes itself from the competition by guaranteeing that all vehicles are shipped on a single trip from pick-up to delivery.
MC Number: 2247479
More About Portland