10 Steps to Make Shipping Cars Easy
Posted on 10 12, 2010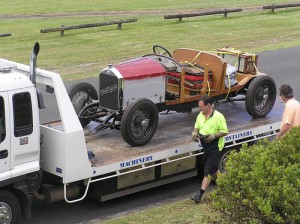 There is a lot of decision making involved when it comes to shipping cars, but, by following these 10 easy steps outlined below, you can make the process of shipping your vehicle easy and worry-free.
Get Several Quotes

Shipping cars is a competitive business, and getting the best price to ship your car is easy. You can easily obtain several quotes for shipping your car in minutes by answering just a few basic questions pertaining to your shipping needs right here on our site.

Never Accept a Quote Solely Based on Price

Shipping cars is generally inexpensive across the board. If you are quoted an absurdly low price to ship a car, you may need to question the quality of service you and your vehicle may receive for such a steal. Yes, there are plenty of deals, but never sacrifice quality to save a few bucks, especially when it involves moving something as valuable as your car.

Choose Only Experienced Companies

There are quite a few car shipping companies these days that have been around for many years. Try to do business with those companies. Many times, not only have the companies been around for a while, so have their drivers. Having an experienced driver transport your car will make you feel a lot less anxious about the whole process.

Verify Credentials

Just because a company claims that they are licensed, does not necessarily mean they are. Few companies out today shipping cars are doing so without the proper licensing. Do not let your car end up on one these companies' haulers. Ask for a DOT and MC number and verify them online with the FMCSA.

Confirm the Carrier's Insurance Coverage

When a company tells you that they are properly insured, ask for proof. Any legitimate company that is in the business of shipping cars will have absolutely no problem showing you their proof of car shipping insurance.

Get Reviews

There is nothing better than making an informed purchasing decision, especially when it comes to shipping cars. Stick with companies that have a proven history of customer satisfaction and quality service.

Inquire About Payment Options

Some companies shipping cars these days may ask for a deposit in advance, and then the rest of the payment amount due upon delivery of the vehicle. In addition, several companies will only accept payment in the form of cash or a cashier's check in order to release a car. It is very important to find out what method of payment your carrier accepts prior to shipping your car.

Ask About Cancellation Policies

Plans can change. Therefore, it is important to make sure you will not need to pay a hefty cancellation fee for canceling your car shipment. Cancellation polices vary among auto shippers, so it is important to ask this question before signing a car shipping contract.

Pick a Company That Utilizes an Efficient Vehicle Tracking System

Many companies shipping cars now are using GPS or mobile tracking devices on their vehicles to display where they are at all times. Try picking a company that offers this service to give yourself a little added peace of mind while your car is in transport.

Book In Advance

There are some car transport companies that do not mind booking a vehicle shipment on little notice; however, to score the best deal possible and allow your chosen shipper to prepare for your shipment, try to book your transport at least 2 weeks in advance. Shipping cars is quite a detailed operation, and having adequate time to prepare for the shipment is always a good idea.