12 Tips for Car Transporting
Posted on 08 2, 2010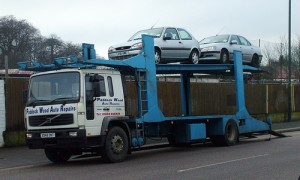 Car transporting is a great service that offers many benefits. Besides getting a car moved to a new location, using a professional car transporter helps a vehicle owner concentrate on other things pertaining to his or her move.
Tips for Using a Car Transporting Service
Employing the services of a professional car transport company is easy. Follow the 12 tips listed below to help make your car transporting experience a pleasant one.
Know your dates.
Before you decide to get car transporting quotes, have the dates you want to move your vehicle in hand. This will help you obtain accurate quotes for your shipping needs. If your shipping dates are flexible, that can help you get a better deal on prices and services as well.
Get several quotes.
With the internet being so readily available, it is possible to attain several quotes for shipping a car all in a matter of minutes. Obtaining quotes online not only broadens your search for a car transporting company, but it also widens the possibility of getting the best deals possible.
Compare your quotes.
Most car transporting companies offer the exact same services but at different costs and terms. By having several quotes in front of you, it will help make comparing the costs, services, and terms side-by-side that much easier.
Check the qualifications of potential companies.
When you have narrowed down a few companies that have gained your interest, it is best to check out their qualifications before making a final selection. Look at the car transporting companies' service histories, verify licensing information, and above all, make sure they carry the proper shipping insurance coverage needed to handle transporting your vehicle.
Decide on an auto transport company.
After comparing quotes and verifying the qualifications of each company, you will need to make your final decision on which car transporting company you will use to move your car.
Choose your service.
Now that you have had time to review everything your chosen car transporting company has to offer, you need to make a decision on your chosen shipping service. Some companies offer both open and enclosed car transporting options, with enclosed shipping generally being the more expensive option of the two.
Arrange pick-up and drop-off locations.
When choosing services, you need to arrange where you want your car picked up and where you need it delivered. Several car transporting companies offer both door-to-door and terminal-to-terminal pickup and delivery services.
Verify payment options.
Every car transporting company may have their own unique payment options available for their customers. Make sure the payment options offered by your company are agreeable with you before signing a contract with the company.
Book your date.
Once you have made all the decisions regarding your payment options and services, you will need to book your date with your car transporting company to make it official.
Prepare your car for shipment.
Clean the interior and the exterior of your car. Make sure to remove all personal belongings from the inside of the car, as well as the outside of the car. Consult your specific car transporting company regarding their pre-inspection requirements prior to shipment day.
Be there to meet the driver on pick-up day.
It is important that you be there to meet with the driver when he arrives to pick up your vehicle. He will need to inspect your car prior to loading it on the hauler and provide you with a copy of the Bill of Lading before he leaves.
Inspect your car after delivery.
Transporting a car is very safe, but accidents can happen. Therefore, it is imperative that you be there to inspect your car when the driver arrives with it. If there are any damages, it is important to have them documented so that the car transporting company can make a claim with their insurance company.