5 Things to Consider When Interviewing A Car Transporter
Posted on 11 5, 2010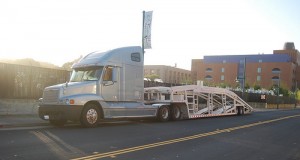 When you must have your automobile transported from one location to another, you need to make sure that you hire a reliable car transporter to trust with the relocation of your vehicle. To assist you with the decision-making, we have analyzed factors you will want to take into account when selecting one of the many auto transport companies.
Not only will these tips we are providing help save you money on your car shipping needs, they will also provide you with information on what to look for in dependable car transporters.
Compare Prices
Depending on the company and the services offered, you will find that prices will differ with each car transporter. It is important to evaluate every quote to review what each company is offering. In some cases, a price for the same service will cost substantially lower with one company than another for the same exact service. That is why it pays to compare when shopping around for auto transport services.
Verify Payment Options
It is always wise to find out if a car transporter will require an upfront deposit prior to shipping your vehicle, and, if so, what method of payment would be acceptable for the deposit and for the final amount. If a vehicle shipper asks you for the total costs upfront and in cash, consider it a warning sign and move on to the other car movers. If you must pay the total costs for shipping your car upfront, try to put it on a credit card, just in case there are issues with the shipment later on.
Get Everything in Writing
As you may know by now, verbal agreements are never set in stone. Always get every detail of the transaction in writing, regardless of how reputable a car transporter may be. Getting things in writing means that no terms or conditions can be changed later on without your knowledge, and doing so just saves a lot of hassle should any unpleasant surprises occur during the shipment of your vehicle.
Confirm Insurance Coverage
Whether your car is being transported a few hundred miles away or a few thousand miles away, you need to make sure the car transporter is carrying enough insurance to cover your vehicle should it be damaged while in transport. Accidents can happen, but knowing that you are covered if one should occur will offer you peace of mind.
Validate Pick-Up and Delivery Times
It is vital that you are aware of the pick-up and delivery dates of your vehicle. Even though a car transporter cannot guarantee an exact pick-up or delivery time for your vehicle, they can give an estimate. Make sure your chosen company can provide you with this information. Also, ask if the car transporter offers GPS tracking services, as most car shipping companies do.
Now that you are familiar with the five most essential things to consider when interviewing a car transporter for your vehicle transport needs, finding the one that is right for you will now be a much simpler process.