How to Interview a Car Mover
Posted on 09 27, 2010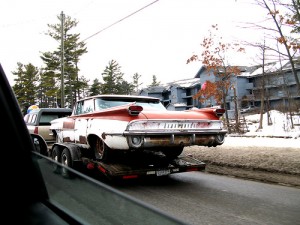 Whether it is a new home across the state or across the country, you will want to take your vehicle with you wherever you go, and that is just what a car mover can do for you. Before you pick out just any car moving company out of the yellow pages or randomly online, do your research and know what questions to ask when you interview a car mover.
Interviewing Car Movers
What transport options does the car mover provide? Numerous car hauling companies offer several different options for getting your car to its new location. Two of the most common options include open auto transport and enclosed auto transport.
You need to take the time out to research what all of the vehicle transportation options are among each car shipping company so that you are able to choose the car mover that is a good fit for your needs.
Does the car mover offer a free no-obligation quote? Obtaining a free, no-obligation rate quote from more than one car moving company will help you discover the one that will offer the transport services you require and best possible price.
Investigating the Contract
What are the car mover's specific terms and conditions? While this information is included within the contract, it is a good idea to ask about the vehicle mover's terms and conditions upfront. This makes it easier for you to review the terms and conditions of a car shipping company before choosing them.
If there seems to be any issues with the terms or conditions, or if there is something that you do not understand in the contract, you can address your concerns with the car mover before making the final choice to hire them to transport your vehicle.
Tracking and Inspecting Your Vehicle
Does the car mover provide a proper vehicle tracking system? Asking this question is very important, because a vehicle tracking system, such as a GPS, can help you know the whereabouts of your vehicle while it is in transport.
Is the car mover going to take pictures of your vehicle prior to transporting it? It is always important to have pictures of your vehicle in the condition that it was in before transporting it. If anything should happen to the car while in the care of the car mover, there will be proof that the damage was not there prior to the transport.
Even if the car moving company does not take their own pictures, it is recommended that you take your own pictures of your vehicle before it is released to the transport driver. Be sure to note any existing damage that your vehicle may have, as the car mover will also be documenting it on their end.
Now that you are familiar with the questions needed to ask any potential car transport companies, you will feel secure interviewing them for your car shipping needs. A car mover can make relocating your vehicle to its new home easier than ever if you pick the right one.