Shipping Car Parts
Posted on 04 29, 2011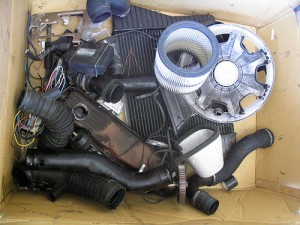 Auto shipping companies offer many services but, unfortunately, shipping car parts is not one of them. What do you do when you need to ship car parts across the state or even across the country? Thanks to the popularity of buying and selling car parts on eBay and other similar auction sites, the process of receiving and shipping car parts purchased online is no longer a mystery. In fact, it's easy.
Careful Packaging Is Important
If this is your first time shipping car parts, you need to understand that there are different methods of packaging these items so that they arrive safely at their destination. The majority of smaller auto parts and accessories will not need any special preparation in order to ship. On the other hand, if you are shipping a car part that is larger in size, special packaging may be required.
Car doors, hoods, and other larger auto parts should be packed in appropriate size boxes to eliminate the chances of damage. Since auto body shops often have these types of parts shipped to them, it's a good idea to start your search for boxes there. You may even score some boxes for shipping car parts for free since most body shops end up discarding or recycling them anyway.
It is very important to drain fluids such as gasoline and oil that may be inside of any type auto parts that you need to ship. Not draining the fluids properly before shipping car parts will almost certainly result in leaks and damage to your packaging. If you plan to ship auto parts that cannot be drained of hazardous materials, you will need to choose a carrier that will move these items for you. Many will, but only under certain conditions.
Choosing Your Shipper
Many people have had great success shipping auto parts via the popular carriers such as USPS, UPS, FedEx, and DHL. Keep in mind that every carrier will have their own set of rules as to what they will ship. Prices and options will also vary amongst carriers; therefore, it pays to comparison shop to find the best deal when choosing one.
Another alternative to shipping car parts via a popular carrier is to have a freight company move them for you. A quick online search will yield you plenty of results to choose from. Since freight companies are quite competitive, it pays to get a few quotes from several of them before making your final selection.
Shipping car parts that weigh over 100 pounds, such as engines, transmissions, and some car hoods, may not be worth the expense or the hassle of packaging and shipping. It's best to avoid shipping car parts such as these, and buying or selling them locally instead.