Pennsylvania Auto Shipping Quotes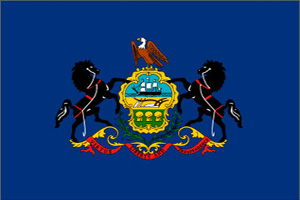 Pennsylvania auto shipping companies offer an easy and cost-effective way to transport cars from and to the state. Auto shippers in Pennsylvania specialize in hauling cars, minivans, trucks and sports utility vehicles throughout the eastern seaboard and around the country. They can pick up your car from any location within this densely populated Mid-Atlantic state and transport it your destination with minimal effort on your part.
Finding a Car Shipping Company in Pennsylvania
Finding a Pennsylvania auto shipping company to haul your car is relatively easy if you know what to do. Many auto transport companies these days have websites that detail all their services and give you free price quotes if you provide them with your requirements. You can use such sites to make your reservations directly with a Pennsylvania auto shipping company.
You can also use transportation brokers and agents to make your reservations. Brokers typically have relationships with multiple vendors, and will be able to get you deals more efficiently than you would be able to find on your own. Many brokers have online quote comparison sites which allow you to receive and compare quotes from between five and six transporters at the same time.
Available Options
All Pennsylvania auto shipping companies basically offer the same set of options for transporting a car. You will have the choice of using either an uncovered truck or an enclosed carrier to ship your vehicle. Both options are perfectly safe. However, with an open truck, your vehicle will be exposed to weather conditions and dust while it is being transported. An enclosed carrier makes sense if you are transporting an expensive car or an antique vehicle. Keep in mind that open carriers are a substantially cheaper option, though, and are adequate for most other vehicles.
Many Pennsylvania auto shipping companies will also offer you a choice between terminal-to-terminal shipping and door-to-door service. The former option is a good one if you happen to be located close to your shipping company's transportation hub and do not mind dropping off your vehicle there. The more convenient option, if you do not mind paying a little extra for it, is to have your transporter pick up and drop off your car at your door. Almost all major car transporters these days offer such door-to-door service regardless of where you are located.
How Auto Transport Companies Operate
If you have not used auto transport services before, there are a few things you need to know about them:
Car transporters usually will consider the size and weight of your vehicle when computing shipping costs. Transporting a big vehicle, such as a Hummer or a passenger van, will cost you quite a bit more than transporting a small car, such as a Toyota Yaris.
A Pennsylvania auto shipping company will charge you less to transport your car from a major city compared to a smaller city. So, it will be cheaper for you to ship your car from big cities, such as Pittsburgh and Philadelphia, rather than small towns, such as Gordon and Dayton.
The shipping distance has a bearing on costs as well. The greater the distance you want your car to be transported, the more you can expect to pay for the service.
Selecting a Reliable Company
When selecting a company, remember that prices are not always what they seem. If a company offers you a substantially lower rate than the others, find out if there are any hidden costs. Make sure that any vendor you select is reliable and has a good track record. The Federal Motor Carrier Safety Administration (FMCSA) website offers details on all registered and licensed auto transporters in the country. Use the site to verify an auto transporter's credentials and track record. Never entrust your vehicle to a company that does not carry insurance, because you will end up having to pay for repairs in case your car gets damaged during transit.
Auto transporters are a cost-effective alternative to do-it-yourself relocation, so consider hiring a Pennsylvania auto shipping company if you have a vehicle that needs to be hauled from or to the state.
Pennsylvania Transportation Resources