Motorcycle Trailers
Posted on 11 7, 2011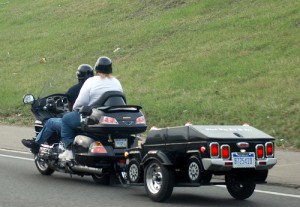 Motorcycle trailers come in two forms. One kind of trailer is used for point-to-point transportation of motorbikes. They are designed to be pulled behind a tow vehicle and can be used to haul one or more motorcycles. The other kind of trailer is designed to carry cargo and be hauled behind a motorbike. These kinds of motorcycle trailers are small and lightweight, and usually capable of carrying loads of between 150 and 200 pounds.
Enclosed Motorcycle Haulers
Motorcycle trailers that are designed to transport bikes are single-axle vehicles that can be either open trailers or enclosed trailers. Two-bike enclosed trailers usually are about 5 feet long and 8 feet wide (5'x8') and have an interior height of about 5 feet. Such carriers are usually made from either aluminum or steel, and are typically rated to carry between 400 to 600lbs. They can be used to transport either dirt bikes or standard motorcycles. Most enclosed motorbike carriers come equipped with heavy-duty plywood floors and walls, and have a spring assisted ramp door for easy loading and unloading of the bike. It is also common for most such trailers to come equipped with heavy duty safety chains and wheel chocks for securing the bike in place while it is being transported.
Open Motorcycle Carriers
Open motorcycle trailers typically are designed to transport one or two motorbikes. Most are low-profile, single-axle vehicles featuring lightweight aluminum frames and fold out loading ramps. Some open trailers do not have loading ramps, instead, the whole trailer can be lowered to the ground to allow the bike to be loaded or unloaded. Most open trailers include tie down channels, wheel chocks and safety chains for securing the bike during transit.
Where to Find a Motorcycle Trailer
Many motorbike enthusiasts own their own motorcycle trailers, which they use to transport their bikes to rallies, bike shows and to vacation destinations. If you don't own one, you can easily rent an enclosed or open trailer from major moving and auto transport companies as well as from bike shops for as little as $30 a day. If you are renting a motorcycle trailer, make sure to invest in wheel chocks to prevent your bike from damage during transit. You can purchase an open motorcycle trailer at prices starting around $850, while you can get an enclosed one at prices near $1600. A motorcycle trailer is relatively easy to tow. However, care must be taken to hitch the trailer properly to the tow vehicle and not to overload the trailer.
Cargo Trailers
Motorcycle trailers that are designed to be towed behind bikes, meanwhile, serve a very different function. These kinds of trailers are used by motorcycle enthusiasts to haul cargo and equipment. Usually, such trailers are small and lightweight, and have recommended weight limits of about 150 pounds of so. In most cases, the trailers are not a whole lot wider than the bike. They are available in a variety of different shapes, and can be customized to match the color of the bike that will be towing it. You can buy a brand-new 4-foot all-metal trailer for around $1,500. The key factor you need to pay attention to when choosing such trailers is the usable space within such trailers, and the ease with which you can load and unload cargo from them.
Motorcycle trailers serve a useful function regardless of the manner in which they are being used, so consider equipping yourself with one when you need a motorcycle shipping method or need to carry some additional cargo on your next bike trip.