Michigan Auto Shipping Quotes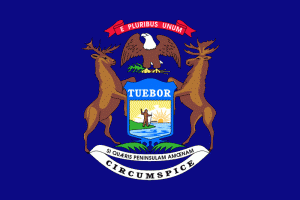 Michigan auto shipping companies offer vehicle transportation services to any destination within the country. Most offer convenient door-to-door shipping services and expedited shipping options if you need your vehicle transported in a hurry. Regardless of whether you are looking to transport a sedan, luxury car, SUV, minivan or a full-size van, a Michigan auto shipping company will likely be able to do it for about the same cost as a do-it-yourself relocation.
Auto Transport Companies in Michigan Cities
Read more about Michigan auto transport companies in the following cities.
Michigan Car Transporters Have a Long History
Michigan is located towards the mid-western part of the country. Detroit, which is the state's biggest city, has been home to the Big Three automakers for over a century and is widely regarded as the automobile capital of the world. Many of the large Michigan auto shipping companies have years of experience hauling automobiles for the major auto makers, and today offer the same professional services for consumers. The same state-of-the art carriers that are used to haul cars for the auto makers are often used to transport cars for individual consumers and businesses.
How to Choose a Michigan Auto Transporting Service
When choosing a Michigan auto shipping company keep the following auto transport facts in mind:
Auto transporters typically haul cars in large open carriers unless you ask them specifically for an enclosed carrier option. An enclosed carrier might make sense if you have a very expensive luxury car or a collectible and you want it protected during transportation. Otherwise, there really is little reason why you need an enclosed carrier.
You can arrange to have your Michigan auto shipping company pick your car up from your door. If local ordinances prevent them from coming to your home, they will arrange to have it picked up from a convenient location close to your home.
The rates that your car shipping company quotes will depend on how far you need to have your car shipped and how soon. Bookings that are made with less than seven days advance notice can sometimes preclude expedited shipping rates.
Make sure that your Michigan auto shipping company is trustworthy. Do not be tempted by low rates. Before entrusting your vehicle to an auto transporter, make sure the company is registered and has auto shipping insurance. A reputable company will have cargo insurance and at least $500,000 to $750,000 in liability insurance to cover potential damage to cars during transit.
Use an online quote comparison site to quickly receive quotes from multiple auto transport companies. This is probably the easiest way to find an auto hauler for your needs.
Negotiate the Best Deal
Do not be shy to ask an auto transport service for customer testimonials. Many companies proactively offer such testimonials to potential customers. If a company is unable or unwilling to offer you such testimonials, it probably is not a good idea to entrust your car to that firm. It also never hurts to check if any discounts are available. Sometimes, an auto transporter may offer reduced rates if you are, for instance, a student, veteran, senior or AAA member.
Michigan is a densely populated state that is situated in the Great Lakes region of the country, It is a major hub of manufacturing activity and represents the heart of what was once known as the American steel belt. Letting a Michigan auto shipping company transport your car is one of the most convenient ways to relocate to or from the state.
Michigan Transportation Resources