Kentucky Auto Transport Quotes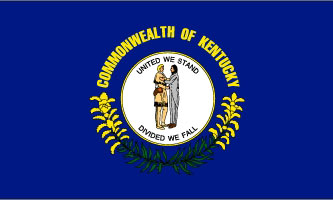 Kentucky auto shipping companies can help you transport your car from the state to any part of the country. Most of the reputable auto transporters in Kentucky are licensed for interstate operations and are equipped to move your vehicle quickly and safely to wherever you want it delivered. Contrary to what you might expect, having your car shipped by a Kentucky auto shipping firm will only cost you about as much as a do-it -yourself relocation, but with considerably less effort and stress.
More Than Just Horse Racing and Bluegrass Music
Though Kentucky is perhaps best known for its annual derby and bluegrass music, there's much more to the state than just horseracing and country songs. The Bluegrass State is officially considered a part of the South, but is geographically located more in the east central part of the country. Much of the state's economy is derived from agriculture and, more recently, from the automobile manufacturing industry. The state is one of four in the country to be constituted as a Commonwealth.
Kentucky Car Transporters
Relocating to or from Kentucky can be a stressful experience regardless of the reasons for the move. A Kentucky auto shipping company can ease some of the stress by helping take care of your car transport requirements. Auto haulers in the state offer door-to-door delivery to any destination inside the state and the country. Most are equipped with modern fleets and sophisticated navigation systems that are designed to optimize their ability to transport cars cost-effectively and safely.
Tips for Finding the Right Car Shipping Company
Use an online quote comparison site to begin your search for a Kentucky auto shipping company. These are websites that allow you to get auto shipping quotes from multiple service providers. All you need to do to receive bids from competing vendors is submit your requirements once via a simple online web form. In evaluating the bids make sure to keep the following tips in mind:
Kentucky auto shipping companies typically transport cars in open carriers or enclosed carriers. Open carriers cost less, but your car will be exposed to weather conditions and road debris during transit.
The price quoted by an auto transport company should typically include all fees, tolls, levies, insurance and any other extras. Before selecting a company, find out whether there are any hidden fees that you need to know about.
Find out if door-to-door service is available in your area. Though many companies offer this service, sometimes local regulations and ordinances might prohibit your shipping company from picking up your car from home.
Verify if your Kentucky auto shipping company is properly registered and insured for interstate car transportation. Most of the reputable companies in the state are sure to be properly insured, bonded and licensed. Even so, it always pays to check.
Always check to see if any discounts are available. Sometimes, auto shippers offer lower rates for students, seniors, veterans and others. Check also to see what mode of payment the company is willing to accept. Auto transporters typically do not accept credit cards or checks.
If you are relocating to or from the Blue Grass state, make the move a more pleasant experience by hiring a Kentucky auto shipping firm to transport your car for you.
Kentucky Transportation Resources