Exotic Car Transport
Posted on 10 3, 2011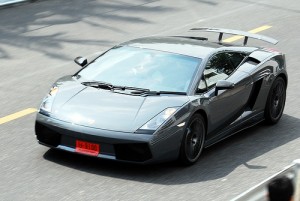 Consider hiring an exotic car transport firm if you have a high-end luxury vehicle such as a Rolls Royce or a Maserati that you need to transport from one location to another. Exotic car transport companies are specialists at moving rare and expensive cars and can ship your car more safely and cost-effectively than a generic car shipping company would be able to do it. Many companies that transport exotic cars offer door-to-door service and can ship your vehicle to any destination within the country for a reasonable price.
What Exactly is an Exotic Car?
By definition, an exotic car is a high-end, high-performance, luxury vehicle. Exotic cars usually feature customized accessories and come equipped with features and functions that are not commonly found in mass-produced vehicles. Many exotic cars are prototypes and experimental vehicles that are manufactured in small numbers and for a limited time only. Some examples of exotic cars include Rolls Royce, Maserati, Lamborghini, Bentley, Ferrari and Bugatti cars. Depending on the make and model, an exotic car can sometimes cost over a million dollars to purchase.
Transporting an Exotic Car
Transporting such cars can be tricky because even minor damages can end up costing thousands of dollars in repair costs. If you are the owner of such a car, you will probably not want to put unnecessary miles as well as wear and tear on the vehicle by driving it over long distances to a new location. These are some of the reasons why experts recommend that owners of classic and expensive cars use a professional car transport company anytime they want their vehicles moved to a new location. Exotic car transport companies are professionals at shipping expensive vehicles. They use trucks and equipment that are designed to transport high-end vehicles safely and securely to their destinations.
What to Look for in an Exotic Car Transporter
Most exotic car transport companies use enclosed carriers to transport cars. Enclosed carriers are more expensive than the open carriers, which are used to ship most cars. However, enclosed carriers also protect cars better from inclement weather, road debris and grime during transportation compared to uncovered carriers. Importantly, while generic car transporters typically use ramps to load and unload vehicles, exotic car transport companies use lift gates. This is to prevent the undercarriage of exotic cars from getting damaged while being driven up or down a loading ramp. The trucks used to transport exotic cars are often double-deckers, with each deck capable of holding just one car. Shipping companies sometimes ship exotic cars in containers if a customer specifically requests one.
Tips for Choosing a Shipper for Your Exotic Car
If you plan to use an exotic car transport company to move your car, keep the following tips in mind:
Shipping an exotic car will cost you substantially more than shipping a generic car. However, the additional cost is worth it because of the added protection your car will get during transportation.
Before entrusting your exotic car to a professional shipping company, make sure that it will be transported for the entire distance by the same company. Auto shipping companies sometimes have partnerships with other carriers, and might hand off your vehicle to a partner company, particularly in situations where cars are being transported over a long distance.
Your exotic car is a very expensive asset, so it is vital to make sure that any company you choose to transport the vehicle has adequate insurance protection to cover accidental damages during transit.
Talk with your insurance company and see whether they would be willing to extend coverage for the vehicle during transit. Getting additional protection is a good idea for anyone interested in exotic or classic car transport, because the transportation company's insurance coverage may be inadequate.
Exotic cars are a pleasure to own and to drive, but transporting them can be stressful. You can mitigate at least some of the stress by hiring an exotic car transport firm to do the job for you.