Car Shippers
Posted on 09 26, 2011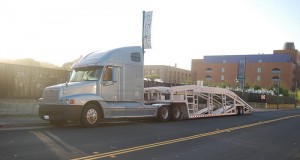 Car shippers are companies that specialize in transporting cars from one location to another. Most such companies own fleets of large trucks that are designed to safely haul multiple cars at a time to different destinations within the country. Several auto transport companies also offer car transportation services to overseas destinations as well. If you are looking to transport your car to a new location for any reason, chances are high that a professional car shipping company would be able to get it to your destination for about the same price that it would cost you to drive it there yourself.
Options Offered by Car Shippers
Car shippers typically transport cars in large open carriers or specialized enclosed carriers. Open car carriers are uncovered vehicles that are equipped to securely transport up to 10 cars at a time. Most open carriers feature two decks as well as special restraints and harnesses that are designed to hold cars securely in place during transit. Some car shipping firms use uncovered goose-necked carriers to transport cars as well, though in such cases the number of cars that can be transported at the same time is usually restricted to four or five.
Enclosed Shipping
Enclosed carriers are another commonly used mode of car transportation by car shippers. This is an option that is typically used to transport luxury cars and other expensive vehicles, such as antiques and classic cars. With this option, cars are shipped in enclosed trucks, which provide better protection against weather and debris during transit. Unlike open carriers, enclosed carriers are capable of carrying only about two to four cars at a time, and are, therefore, a more expensive option for consumers.
Door-to-Door and Terminal-to-Terminal Shipping
Car shippers typically give consumers a choice between door-to-door service and terminal-to-terminal shipping. With the former option, the shipping company's truck will come to your front door to pick up and drop off your car. With terminal-to-terminal shipping, you will be required to drop off and pick up your car from the shipping company's terminal. Both options have their advantages. For instance, door-to-door shipping is very convenient, but terminal-to-terminal shipping is cheaper.
Car transporters haul cars to and from any destination within the United States. Most of the major companies use large modern fleets of trucks as well as sophisticated GPS tracking and fleet management systems to transport cars in a cost-effective and secure manner around the country. Reputable carriers usually are licensed for interstate transportation services and will carry the insurance protection needed to cover repair costs in case a car gets damaged during transportation.
Overseas Shipping
In addition to domestic shipping, many car shippers also offer the option to ship cars overseas to Hawaii and to other international destinations. Typically, such companies will pick up your car from your home or nearby location and transport it to the nearest port city, from which it will be loaded on to large transportation ships. In some cases the cars will be shipped on Roll On Roll Off (RoRo) carriers. This is a mode of shipping in which your car will be driven on board the ship in the same manner in which it will be transported and driven off the ship at the destination port. More overseas shipping options include lifting the vehicle aboard the ship on lift gates or via cranes. Some car shippers also transport cars in closed containers.
How to Choose a Car Shipping Company
Choosing an auto shipping company for your needs can be difficult given the sheer number of car shippers that are available out there, and the wide range of choices they offer.
In general, it is a good idea to begin with a clear understanding of your objectives and your budget.
Remember, the price to transport a car depends not just on distance, but also on factors like the options you choose. For instance, open car shipping is cheaper than enclosed shipping, while terminal-to-terminal services cost less than door-to-door service.
You can negotiate better prices and better deals when you book well in advance of your intended shipping date.
Do not be fooled by cheap prices. Sometimes, a car shipping company might quote a much lower price than the competition. Make sure you verify that there are no hidden costs, and that the car shipper is fully insured and properly registered before you sign up with them.