Car Prep Checklist
Posted on 03 30, 2010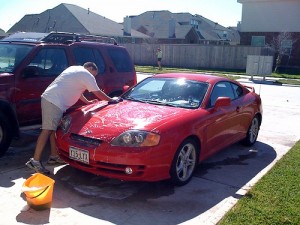 Most auto shipping companies will require that you do some preparation in advance before shipping. It's always a good idea to read any information, such as a car prep checklist, sent to you by the car shipping company. If you don't prepare your car adequately, the shipping service may refuse to take it.
Car Prep Checklist and Guide
The majority of auto transport companies will require that you follow some or all of these requirements on this car prep checklist before shipping.
Most auto shipping companies will not allow you to carrier more than 100 lbs of personal belongings in the vehicle during shipping, and it, more than likely, has to be in the trunk. Personal items inside the vehicle will not be covered if lost or stolen.
Make sure you inspect your vehicle with the auto shipping company. All exterior and interior defects should be noted. If no inspection is done, then the shipping company probably won't be liable for any damages. Also, when you pick up your vehicle at your destination, you will do another inspection. Make sure the auto shipping company washes off your vehicle so that you can do a proper inspection. Do not pick up your car if you are in a rush!
Make sure that your vehicle is personally insured. Most auto shipping companies will not repair damages due to normal road conditions. For example, if your auto is struck while sitting on a lot, even under the control of the carrier, your insurance would have to cover the damages. If the car was damaged directly by the carrier, then the auto carrier's shipping insurance would be responsible.
It is a good idea to have your car serviced and the gas tank low (not empty) prior to transport.
There will be an extra charge if your vehicle is inoperable, or if there are any other additions to your auto, such as camper shells, lifted/oversized trucks, and other things that you did not tell the company prior to shipping. Make sure you specify any and all modifications to your vehicle for a proper quote.
Make sure that you have a complete set of keys for the auto shipping company, and a full extra set for yourself.
If you are transporting a classic, custom, rare, exotic, or otherwise expensive vehicle, go for the enclosed transport if you can – it will be worth the extra cost!
Auto Shipping Checklist
In addition to the car prep checklist, here is an additional auto shipping checklist with all the features that you should remove or turn off in your car.
Keys: Make sure you have a complete set of keys for your auto shippers (ignition, trunk and glove box keys). This is also a requirement from the DOT. In the event that the driver is questioned, this will keep him in compliance with all transport regulation.
Removable Car Phones/GPS Systems: Car phones and many GPS systems are removable. Remember to remove these items from your car.
Antennas: If you have antennas for your CB, radio, or cell phone that can be removed, take them down. When possible, lower your retractable antennas to ensure they don't get broken off.
Spoilers/Fog Lights: Anything that is removable from the exterior of you car should be taken off. This will help the driver with loading and give you added assurance that your auto accessories will not be damaged.
Luggage Racks: Yes, it's true; normally, you could load your car and your luggage racks up for driving cross country. But, not this time! If your racks aren't permanent, take them down, along with any bike or ski racks.
Gas Level: You should drive your car down to about 1/4 tank. This will help with weight and safety.
Personal Items: Your car transport fee has many variables, including shipping weight. You should also be aware that your personal items are not covered by the transporter's insurance coverage.
Climate: You don't want to have problems with your car at the time of delivery. You should prepare your car for a change in the weather when moving to a different climate.
Alarms: Disable your car alarm. This could potentially save you time and money. Your car is likely to feel a few bumps along the way. You don't want to experience the problem of your car not starting at the time of delivery.
Cracked Glass: Take note of any chips, nicks, and scratches in the glass on your car.
A Clean Car: Washing your car prior to dropping it off will help you detail your vehicle's condition. This will better help you and your transporter give a quick and accurate assessment of your car's overall condition.