Auto Transport Options and Services: A Quick Guide to Automobile Transport
Posted on 01 6, 2011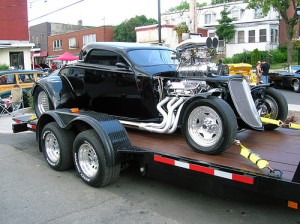 When looking for a professional auto transport company, you need to know that you have options – many in fact. From the truck that your car is carried on to the locations where your vehicle is picked up and dropped off at, these are only a few of the many auto transport options available.
Types of Automobile Transport Trucks and Trailers
There are really two main types of trucks used in auto transport: tractor trailers and pickup trucks, also known as hotshot trucks. There are some advantages and disadvantages that come with using either of these auto transport options.
Tractor trailers can easily transport multiple vehicles at one time, making it a cost-effective option for both consumers and auto transport companies. The downside to tractor trailers, though, is that they can't easily navigate through many residential areas like smaller trucks can. This makes shipping a car on a tractor trailer good for someone that is on a tight budget, but not for someone that may be on a time crunch and needs their vehicle moved quickly.
A hotshot truck, on the other hand, can easily navigate through almost any residential street, making it a great option for those who want to take advantage of door-to-door shipping or expedited auto transport service.
No matter which type of truck you use, that truck will need a trailer to carry your vehicle on. This is another choice you will need to make. There are two choices when it comes to car hauler trailers: open and enclosed trailers.
An open trailer can be a single car trailer or it can have the capability of hauling several vehicles at one time. Opting to go with a trailer that can haul multiple cars is generally cheaper than any other method of auto transport, but it will take more time to transport your vehicle than if you were to choose to ship your vehicle on a single car trailer. This can affect your pickup and delivery times considerably, especially if other shippers are late or miss their scheduled pick up or delivery windows with the auto transport driver.
There is the option to have your car transported on a single, enclosed car trailer, but be prepared to pay more to use this service. However, many will agree that the benefits that come with shipping a car on a single, enclosed auto transport trailer far outweigh the costs of this auto transport option.
Because your car will be the only one on the single auto transport trailer to be picked up and dropped off, you do not need to worry about other shippers slowing down the pickup or delivery of your vehicle. You also do not need to worry about your vehicle incurring any damage from other vehicles while on the trailer, although damage during transport from other vehicles is rare regardless. Finally, your car will not be exposed to damage from the elements and the roads while in an enclosed trailer.
There is also the option of having your car transported on a single flatbed trailer. If you are planning to ship a car that is modified or oversized, you are encouraged to use this method of auto transport. Pricing for this service depends on many factors and can vary by carrier.
Auto Transport Pickup and Delivery Options
There is much debate over which is better: door-to-door auto transport or terminal-to-terminal shipping. Like everything else, there are advantages and disadvantages to using both of these auto transport options.
Door-to-door auto transport is convenient and perfect for someone that can be present when the transport driver arrives for the pickup and delivery of their vehicle. You may also approve someone else over the age of 18 to to be present. Convenience usually comes with extra charges, and the majority of carriers do charge extra for door-to-door service.
An auto transport driver cannot pick up or leave a vehicle without having the proper paperwork filled out. If you or someone you authorize to accept your vehicle is not around when the driver arrives, he may need to place your car at a terminal for storage, where it will await your pickup. This can result in added costs for you and could be very inconvenient, especially if the terminal is not located close to your desired location.
Terminal-to-terminal auto transport is perfect for someone that just doesn't have time to wait around for a transport driver to pick up their vehicle, and may not be around when the driver arrives at the destination location to accept delivery of it. Having a vehicle dropped off and picked up at a terminal is also generally less expensive than door-to-door shipping is.
Terminals are usually located in large metropolitan areas; therefore, if you are planning on shipping or receiving your car and are not in close proximity to any terminals, you may be better off choosing door-to-door auto transport. The extra cost you may need to pay for the service will more than likely outweigh the expenses and inconveniences you may encounter by not choosing this option.
Knowing the types of auto transport options and services available, and having an idea of what to look for when choosing a company to ship a car, will have you feeling confident when selecting an auto transport company to handle your next vehicle move.