Auto Transport Brokers
Posted on 11 28, 2011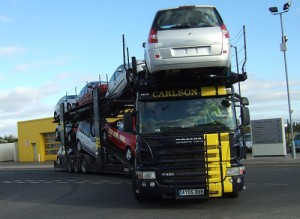 Auto transport brokers play a vital role in the vehicle shipping industry. They act as middlemen between consumers and auto shipping firms. They specialize in helping consumers find companies that can transport their vehicles for them. Auto transport brokers work with multiple carriers and can usually arrange to have your vehicle transported to wherever you want it shipped for a better deal than you would have been able to negotiate on your own.
The Difference Between a Carrier and a Broker
The main difference between auto transport brokers and auto transporters is that the latter own and manage their own trucks, while brokers typically do not own any vehicles. Their role is to act on your behalf, and quickly find a carrier in your local area that is able and willing to transport your vehicle as per your requirements.
How Transport Brokers Work
Auto transport brokers will have a list of all the reputable auto transporters in your area and will have information about their rates, the regions these companies service and truck availability. Importantly, they also have inside information on any discounts, specials or last minute deals that an auto transporter might be offering at a particular time.
Most reputable auto transport brokers will able to get you instant quotes from multiple car transport companies in your area. Many have websites where you can submit your requirements, which they then use to automatically match you up with four or five companies in you area. Shipping companies do not require you to go through a broker. You can work directly with them if you want.
The Benefits of Using an Auto Transport Broker
However, there are several benefits in using an auto transport broker to make your vehicle transportation arrangements:
Auto transport brokers work with multiple carriers. So, if one carrier is fully booked at the time you want your vehicle shipped, they quickly know where to find another company that does have availability. As a result, your car will be picked-up and shipped sooner than if you were to go shopping for availability one carrier at a time.
Brokers can get you better deals. Auto transporters rely on brokers to find them customers. Most auto transport firms do not have extensive marketing staff or budgets. Instead, they work through brokers to advertise their services, their availability and their rates. Because brokers get them the most business, auto transporters usually also give them the best rates. As a result, you are likely to get a better deal by working with a broker than by negotiating directly with a carrier.
You are much more likely to find a reliable car transporter by working with a broker. Reputable brokers only work with transporters that are fully licensed, bonded and insured. The price you get from a broker will typically include insurance coverage, which means that, if your vehicle gets damaged during transit, you will not have to worry about repair costs.
Brokers offer a single point of contact, not just for making reservations, but also for tracking the progress of your shipment and for handling complaints and other issues. Brokers eliminate the need for you to have to deal with carriers directly.
Auto transport brokers play a vital role for transport companies and for consumers, and they greatly help reduce the work involved in transporting your vehicle from one point to another.